Last month, two of Canada's 6 major banks have released iPhone apps: CIBC and BMO. I'm sure that the other 4 are scrambling to get theirs out the door. Yesterday, ING Direct (not one of the "majors" but still a large national bank) released theirs. In the US, the same pattern is in full swing.
The smartphone will redefine the call center experience
We believe this trend is going to accelerate, driven by the rapid proliferation of smartphones. (Especially as handsets get cheaper and cheaper.) We also believe that the smartphone, as a platform, has the power to redefine the call center experience and make it better for both the callers and the companies.
Power untapped, for now
Today, the power of this platform is largely untapped. The banking apps do all kinds of interesting things, but  in terms of calling in to the bank, the phone is reduce to a plain 'ole dial tone. There is tremendous opportunity to use the keyboard, screen, data channel, and computing power of the device to make those transactions smoother.
The future of the call center is a visual interface
The case for a visual interface has already been there for years as customers are increasingly in front of a web browser when calling. We've seen efforts to capitalize on this cross-channel opportunity in the form of click-to-call and click-to-chat. (Fonolo, we believe, takes this concept a step further with our intelligent calling features.) The rise of the smartphone reinforces that case and makes it irresistible.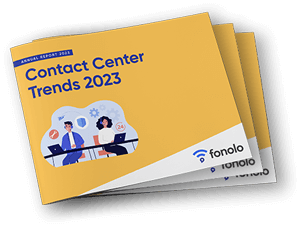 Trend Alert! Contact Center Industry Predictions for 2023
This report offers perspective on where the contact center industry stands today, plus our trend predictions for 2023.