The use of speech recognition in phone menus is one of those advances in technology that sounds great in theory but doesn't live up to the promise in the real world. Maybe it's because it works so well in the movies!
There are certainly use cases where speech recognition is the absolute best approach. Directory assistance is a great example. But, sadly, a far more common implementation involves replacing "press 1 for billing" with "for billing, say 'billing'." This kind of borderline-comical situation is what leads to so much user dissatisfaction with the technology.
Blogger Blake Landau summed up nicely in a recent post on the CustomerManagementIQ blog:
It's not a rare day that I hear someone walking in the street on the phone with customer service… screaming into their phone: 'AGENT, AGENT,AGENT!' Fortunately the recipient of this anger is not getting their feelings hurt… it's an automated attendant at the other end of the line. … as consumers, we come to begrudgingly accept these as a fact of life.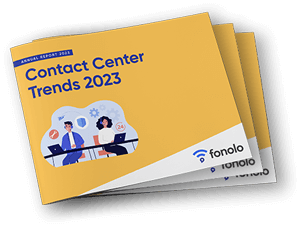 Trend Alert! Contact Center Industry Predictions for 2023
This report offers perspective on where the contact center industry stands today, plus our trend predictions for 2023.