American Express released a terrific study last week called the Global Customer Service Barometer.
The goal was "exploring attitudes and preferences toward customer service" in the US and 11 other countries and their results, while not surprising, are still comforting to see for those of us adamant about improving the call center experience.
The results that grabbed headlines were "Americans Will Spend 9% More With Companies That Provide Excellent Service." (It's 7% for Canadians if you were wondering.)
The impact of social media
My favorite part was about the impact of social media:
Nearly half of consumers report always or often using an online posting or blog to get others' opinions about a company's customer service reputation. But when consumers go online they're looking for "watch outs," saying they put greater credence in negative reviews on blogs and social networking sites than on positive ones (57% and 48%, respectively).
The tendency to weigh negative stories more than positive ones is a well-known effect in psychology. It's neat to see it quantified in this study.
Swift punishment
It appears from the study that American's are swift with their punishment for bad service: "81% have decided never to do business with a company again because of poor customer service in the past. When asked how many poor experiences they allow, half of all Americans (50%) reported it takes two poor service experiences before they stop doing business with a company."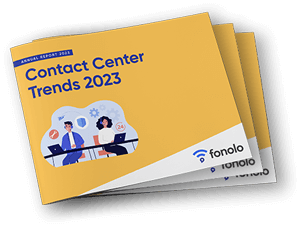 Trend Alert! Contact Center Industry Predictions for 2023
This report offers perspective on where the contact center industry stands today, plus our trend predictions for 2023.