One of the big trends in the world of the call center / contact center, is the growing complexity of the communication channels that have to be managed. Web, voice and email have been joined by chat, Twitter, Facebook and more.
The upside
The good news is that multi-channel customers bring more profit. At least according to Elaine Cascio, VP of consulting firm at Vanguard Communications. She writes on TMC: "The challenge is that providing a great customer experience is getting harder and harder. We're faced with more and more channels for customer contact and have less and less control over the experience. Study after study shows that multichannel customers are considerably more profitable than single channel customers. So not only is a customer experience strategy good for building customer loyalty, it's good for your bottom line." Read the full entry here.
The downside
Cascio doesn't provide any hard evidence to back up this claim, but we hope that future studies will provide confirmation. What we do know is that the cost of getting the strategy wrong is growing.
The AmEx study from July 2010 illustrates why. After asking a random sample of 1000 people (18 or older), they found that:
81% have decided never to do business with a company again because of poor customer service in the past.
50% reported it takes only two poor service experiences before they stop doing business with a company.
We wrote about that study here.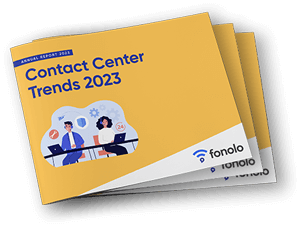 Trend Alert! Contact Center Industry Predictions for 2023
This report offers perspective on where the contact center industry stands today, plus our trend predictions for 2023.