We have just posted a new whitepaper to the site called "Fonolo for the Financial Industry" (form fill-in required).
Why did we write a vertically-focused paper? Because we have been receiving much interest from banks and other financial institutions lately and, in talking to them, we have learned some interesting things about why our solution is so well suited to their needs and why Fonolo is so relevant to them today. Companies in the financial sector place extremely high demands on their call center.
High cost-per-call
The complicated and sensitive nature of the calls handled requires an agent who is highly trained and experienced. This, in turn, leads to a high cost-per-call. At the same time, customer relationships are long-lasting, meaning that sacrificing caller satisfaction in the short term is not an option.
This creates a tough challenge:  How do you decrease the cost-per-call, while improving the customer experience?  Banking, insurance and credit card companies have discovered that Fonolo is the perfect solution to this exact challenge.
The mobile opportunity
Financial companies have embraced the myriad opportunities created by the rise of the smart phone.
Fonolo is the only solution that can add intelligent agent calling to a mobile application without any changes to the call center.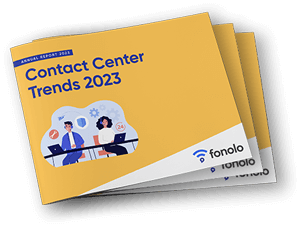 Trend Alert! Contact Center Industry Predictions for 2023
This report offers perspective on where the contact center industry stands today, plus our trend predictions for 2023.