I am thrilled to announce that we have hired a new Director of Sales. Chris McLean is joining the company, bringing with him considerable experience in enterprise sales (along with tremendous enthusiasm for fixing the call center process).
Selling to large companies requires a unique skill set and is not for the faint at heart. The process is always lengthy, with the complications of internal politics, budget schedules and competing interests. And if you are a start-up selling to large companies, the work is twice as hard.
Chris has over 10 years of experience in software sales, with time spent building an account development team, an inside sales team and mentoring a growing enterprise field sales team. Prior to joining Fonolo, Chris was a Senior Security Sales specialist at Watchfire (an IBM company) where he helped integrate the newly acquired Watchfire sales team into the larger IBM Rational sales process.
Chris has the ability to focus on customer needs and requirements, and has successfully helped companies of all sizes achieve their goals both on a technology and business level. With his attention to customer service, Chris will drive the Fonolo sales team to excel in providing a value filled process centered on clients success.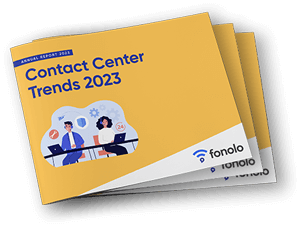 Trend Alert! Contact Center Industry Predictions for 2023
This report offers perspective on where the contact center industry stands today, plus our trend predictions for 2023.