First let me say, since this is my first blog post, that I'm thrilled to be a part of the Fonolo team! After just a few weeks of talking to customers, one thing that has really jumped out at me is the excitement about the impact of social media (which generally means Twitter & Facebook). These tools allow awareness of your customer service quality to propagate quickly through a community or the public at large. On the plus side, the benefits of providing good service can be felt more quickly and more strongly. On the downside, stories of bad service propagate even more quickly.
Leverage for sharing experiences
To get some numerical perspective, check out this recent Customer Experience Report. It explains why small decreases in customer satisfaction can have a bigger impact than you'd expect. Some quotes from that report:
Customer service is still the number one reason consumers recommend an organization, more than products or price.
Word of mouth is the number one influence on consumers' purchasing decisions (76 percent), followed by customer reviews and online feedback at 49 percent.
79 percent of consumers that have had a negative experience with an organization told others about it, and 97 percent chose to share their experience via word of mouth.
85 percent wanted to warn others about the pitfalls of doing business with that company and 66 percent wanted to discourage others from buying from that company.
Don't give people an easy target for complaints
The bottom line here is that you need to be doing everything you can to fill the social media echo chamber with good echoes, not bad. Don't give people an easy target for complaints!
Bad phone menus and long hold times are two such easy targets. The good news is they are easy to fix. Fonolo's visual navigation and virtual queuing services can turn those bad echoes into good echoes with no changes to your call center and minimal expense.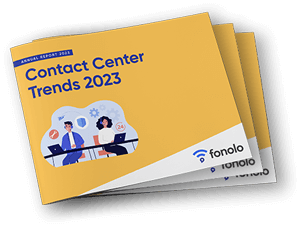 Trend Alert! Contact Center Industry Predictions for 2023
This report offers perspective on where the contact center industry stands today, plus our trend predictions for 2023.