Time Magazine took eBay to task last week for long hold times, and other matters, complaining that eBay had disconnected some of its toll-free lines. The auction giant has recently made an effort to offload call volume to a live chat offering, seeking to lower costs. Although the company promised that wait times for a chat session would be "under five minutes", the reporter recounted a much different experience:
[I] tried the online chat on three different occasions on three different days with delays of one to four hours to reach a rep.… I had time to cook dinner, eat it, do the dishes, vacuum my apartment and rifle through TV channels — only to find I was still number 30-something in the slow-moving online queue.
Reversing course?
On the phone front, Chad O'Meara, vice president of global customer service, admitted that "low volume buyers and sellers do not currently receive telephone support" except for a few site categories. But it looks like they're reversing course on this thing. O'Meara then said that they plans to ramp up the call center with additional agents offer phone service to all customers by the end of 2011.
A lesson to be learned
What's the lesson? There is no substitute for a live conversation with a real person. Yes, it is expensive. For a company built on the low-cost platform of online self-serve, I'm sure it's painful to look at the costs of phone support. But ultimately, that's the way to earn and keep high-value customers.
Luckily, there are other ways to cut down on the costs of call center operations.
Give people a way to connect directly to the type of agent they need and skip the phone menus. Avoid "zero-outs" and other misnavigation that makes it frustrating for callers and more expensive for the call center.
Collect what information you can before the call and pass that on to the agent. Nothing lowers costs faster than reducing the time an agent spends on a call.
Make the experience as pleasant as possible – virtual queuing and post-call surveys are a great way to do that. Happy callers lead to quick calls. Plenty of data backs that up.
The good news is that Fonolo can do this for eBay or your company, and it doesn't take much to set up.
Read the full story here: On Hold at eBay: Customer Service Lines Go Dead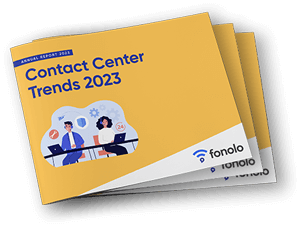 Trend Alert! Contact Center Industry Predictions for 2023
This report offers perspective on where the contact center industry stands today, plus our trend predictions for 2023.