Waiting on hold is consistently one of the top complaints about phone-based customer service. One way to eliminate hold time is to hire enough agents that one is always available. Of course, this is cost prohibitive for most companies! Another way is to implement a virtual queuing (VQ) solution. Shai has written a great series of posts on our VQ offering, Hold-for-Me, on his blog. See, for example:
There are some great cost-savings arguments that support the case for VQ. (I've been spending a lot of time working through these scenarios with prospective customers.) But I believe the best case for it is the uplift in customer satisfaction. In today's hyper-connected world, delivering a superior experience to your customer is something that echoes quickly and has long-lasting impact. I just came across this quote that sums it up nicely:
… a sore neck and a sweaty ear do not a happy customer make.
– Jessica Sebor, Mar 2010, The 2010 CRM Service Awards.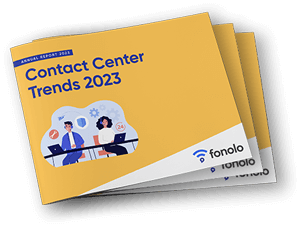 Trend Alert! Contact Center Industry Predictions for 2023
This report offers perspective on where the contact center industry stands today, plus our trend predictions for 2023.