We speak to many companies that have outsourced some or all of their call center operations. The economic benefits usually appear as expected. But there is a downside: Customer satisfaction can deteriorate.
Watch out for a drop-off in customer satisfaction
Analyst Jon Arnold wrote recently:
Outsourcing the contact center provides economic and operational benefits, but along with that often comes depersonalization. Once out-of-sight-out-of-mind creeps into your contact center, that's an invitation for customer satisfaction drop-off – and that could easily offset the earlier mentioned benefits of outsourcing.
That drop-off can have a big impact
The recent Customer Experience Report explains why small decreases in customers satisfaction can have a bigger impact than you'd expect:
Customer service is still the number one reason consumers recommend an organization, more than products or price" and "Word of mouth is the number one influence on consumers' purchasing decisions (76 percent), followed by customer reviews and online feedback at 49 percent.
Fonolo can help
If you are a company that has gone down this path, we think Fonolo can help quickly and easily. By adding Fonolo to your site, you get a new front-end to the call center and you get direct control of how the call options are presented to your callers. Best of all, you don't have to change anything with your outsourced provider. (In fact, they don't even need to know!) In addition to fine-tuning the naming and placement of calling options you can set up post-call surveys to find out exactly how your customers feel and what aspects of the interaction are causing grief.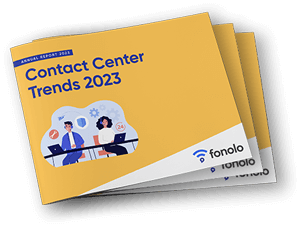 Trend Alert! Contact Center Industry Predictions for 2023
This report offers perspective on where the contact center industry stands today, plus our trend predictions for 2023.