One of the major trends in the world of contact centers is the move to a fully hosted approach, aka "call center in the cloud". Gartner predicts that by 2013, at least 75% of customer call centers will use a form of Software-as-a-Service in their call centers.
This trend mirrors the transition that many other enterprise systems have undergone. (e.g. using Salesforce.com for hosted CRM). The economic arguments are the same ones that were used for those transitions as well: remove the burden of maintaining hardware and software, replace CapEx with OpEx, benefit from more regular upgrades. The call center has been slower to make this move compared to other services because of the need for tight coupling with agents, but now the trend is in full swing, as evidenced by the success of companies like Five9, LiveOps and others.
Will the cloud bring us better customer experience?
I've often noted the poor customer experience delivered by the average call center. Will a move to the cloud alleviate the flaws? In some ways yes. Because the upgrade cycle on the hosted system should be faster, various flaws that are caused by legacy lock-in should be alleviate.
Premise-based contact centers will be hard pressed to keep up with the latest tools, let alone innovate with new applications of their own… [And] as we move further along the spectrum towards… the case for hosted solutions gets stronger for contact centers…
– Jon Arnold, Industry Analyst, Building the case for hosted call centers
Partly cloudy is no good.
However there is a catch: The improvements will only be seen if the transition to the cloud is 100%. I suspect most companies will move their call traffic incrementally in which case, this is just another version of the multi-site problem. As I've written before, having multiple call centers leads to flaws like inconsistent experiences.
Where does Fonolo fit in?
Fonolo makes it easier to add a hosted call center to your mix. That's because Fonolo is really a layer that sits on top of the call center infrastructure, and works independently from it. Fonolo provides a clean, flexible visual interface to your call center operation that becomes part of your website or mobile app.
Once deployed this interface continues to work smoothly regardless of changes to your call center. That means you can make the decision of in-house vs. out-sourced or on-premise vs. hosted based on economic factors, and not worry about the consistency of experience.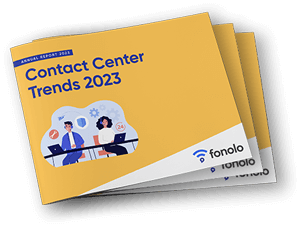 Trend Alert! Contact Center Industry Predictions for 2023
This report offers perspective on where the contact center industry stands today, plus our trend predictions for 2023.