Dislike for IVR systems is fairly universal. In my line of work, I hear many stories of frustration with the phone menu. Seems everyone has a pet peeve or an outrageous tale to tell. Here are a couple good ones.
Call center commentator Greg Levin writes:
IVR. In many customers' minds, this three-letter acronym is a four-letter word. It's not uncommon for callers to mutter a diverse range of other forbidden words whenever interacting – or trying to interact – with a contact center's IVR system.
Blogger Susan Hura lists some other complaints:
… ads for stuff we don't want, long legal disclaimers or having to repeat information once transferred to a live call center representative. I hate them all, but my number one complaint is navigating through an interactive voice response (IVR) system only to be told, "Sorry, if you want to do this you'll have to visit our Web site at www-dot…
What are your IVR complaints? Send them in we'll compile a list for a future post.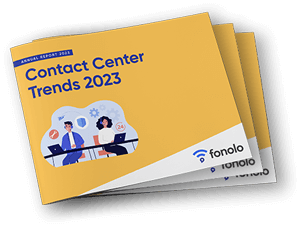 Trend Alert! Contact Center Industry Predictions for 2023
This report offers perspective on where the contact center industry stands today, plus our trend predictions for 2023.