The challenges faced today by the executive in charge of customer service are very different from what they were ten years ago. Since I spend most of my days talking to these executives I have a front-row seat to the dramatic change that is happening in the industry.
The success of the call center used to be measurable with a few key metrics: Average hold time, average handle time, cost per call, first call resolution, etc.  But today the dominant challenge is how to manage the different communication channels: Web, phone call, email, chat and social media. In particular, it can be very tricky to keep the experience consistent across those various channels.
Consistency is a big challenge
What makes those challenges even tougher is that, for a company with large call volume (>10m calls per year), it's a good bet that the call center is multi-site to some extent.  Being multi-sited makes it harder to achieve consistency because it impedes both innovation and optimization. Read Shai's recent post on this for a great overview.
In [multi-site operations] one of the biggest challenges … is providing a consistent experience across all locations…  A hosted contact center environment provides a centralized platform from which to do that, and is more flexible than premise-based solutions that can be difficult to manage across multiple sites, regions, time zones, broadband reliability, communications protocols, etc.
– Jon Arnold, Industry Analyst
Fonolo can help
One of our goals at Fonolo is help provide a consistent interface. Behind the scenes, our system automatically stays in sync with your IVR, so all the business rules that are tied to that system are propagated to the visual interface on your website (click-to-call) and your mobile app (tap-to-call). If you want to find out more, drop me a note.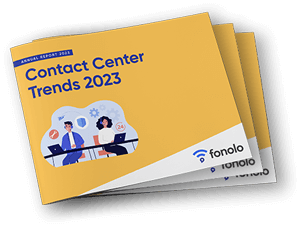 Trend Alert! Contact Center Industry Predictions for 2023
This report offers perspective on where the contact center industry stands today, plus our trend predictions for 2023.