Without exception, the companies I talk to are devoting a lot of effort to their mobile strategy. Anyone with a call center is aware that their unprecedented rise in popularity is changing the game. (IDC predicts that smartphones and tables will together outsell traditional computers in the next 18 months.)
A visual interface is a powerful thing
I find many companies are driven to release a mobile app out of fear that they will lose customers to their competitors who do have an app (or a better one). What they're missing is that this is also an opportunity to improve the calling experience and lower costs in the call center. That's because the smart phone is an ideal platform for implementing a visual interface to your call center. We believe that "The future of the call center is a visual interface".
That interface can then be used by callers to
Steer their call to the right agent, thus reducing misnavigation.
Trigger virtual queuing which can eliminate hold times.
Enter information like a case number or account number, thus reducing call handle times.
Provide post-call feedback.
The good news
The good news is that Fonolo makes it possible and, more importantly, easy for any company to do implement such an interface, both on your web site and on the smart phone.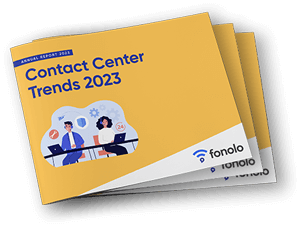 Trend Alert! Contact Center Industry Predictions for 2023
This report offers perspective on where the contact center industry stands today, plus our trend predictions for 2023.