Ask yourself a simple question: "Do customers enjoy calling my company?"
The frustrations are all too familiar: aggravating phone menus, waiting on hold, being transferred between agents, unnecessarily repeating information. Odds are that your call center is guilty of some of these flaws. They cost your company in two ways: the expense of longer calls, and the loss of goodwill from your customers.
In a survey by Purdue University, 63% of consumers said they would stop using a company's products based upon a negative call center experience. But that number was 100% for consumers aged 18 to 25. That statistic should be doubly alarming to companies due to of the propensity of younger consumers to share their negative experiences through social media.
Lower costs and happier callers with no infrastructure changes?
Yes! Fonolo's cloud-based service adds a new visual dialing interface to your call center that lives on your website or mobile app.
Our approach
Our approach is a radical departure from anything you've seen before:
No changes are required to your existing phone system.
Delivers bottom-line results to your business in the form of cost reductions and gains in customer goodwill.
Easy to set up a trial within days.
Creates an improved experience and high level of satisfaction for customers via a browser or smartphone.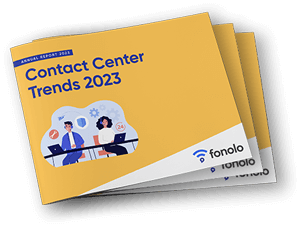 Trend Alert! Contact Center Industry Predictions for 2023
This report offers perspective on where the contact center industry stands today, plus our trend predictions for 2023.