As we've written here before, the mobile application is a huge opportunity for companies to improve their call center experience. This is a platform that can make callers happier and costs lower.
Sadly, we see this opportunity wasted all too often. I think we will look back at this era and be puzzled that it took so long to connect the dots. I am looking right now at a mobile app from a major US bank that will find the nearest branch, show my balance and transfer money.
But what happens when it comes time to actually talk to the bank? I tap "contact us". It shows me a phone number.  And then… it just sits there. If I tap to make the call, all the advanced power of this amazing device is thrown away and I might as well be using a phone from 1950.
A tremendous opportunity for the call center
More than anything else, this is a big opportunity for companies with a call center. The incredible power in the smartphone can fix many of the frustrations that currently plague the calling experience: menu navigation, waiting on hold, data entry. But only if that power is used.
For more, see Chris's excellent post "If your company is releasing a mobile app, don't miss a key opportunity" and my post from last year "The future of the call center is a visual interface".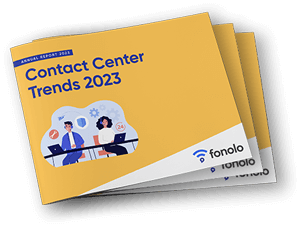 Trend Alert! Contact Center Industry Predictions for 2023
This report offers perspective on where the contact center industry stands today, plus our trend predictions for 2023.