Increasingly, companies are releasing mobile apps for their customers.
More and more mobile apps
In verticals like banking, travel, insurance and retail, the practice is becoming universal. See "Online retail is embracing the smartphone" and "RBC releases mobile app. Now all the banks are in."
But something is missing from the feature list
We commonly see features that support the cross-channel experience. For example, product info, store info and coupons help support the in-store experience. We think this is just the beginning of making a mobile app part of the cross-channel experience. But when it is time to call the company, the phone is reduced to a plain 'ole dial tone.
Tremendous opportunity
There is a tremendous opportunity to use the keyboard, screen, data channel and computing power of the smartphone to make those transactions smoother. For example, it can be used to:
Steer their call to the right agent, thus reducing 'mis-navigation'.
Trigger virtual queuing which can eliminate hold times.
Enter information like a case number or account number, thus reducing call handle times.
Provide post-call feedback.
You can see some demonstrations of these features here.
Use Fonolo to connect your call center to your mobile app
By adding the Fonolo component to your mobile app, consumers can connect directly with the call center in a smart and cost-effective way. Best of all, no changes are required to the call center infrastructure.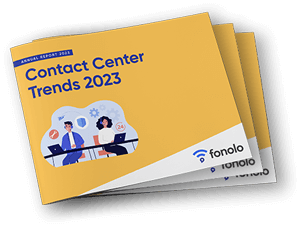 Trend Alert! Contact Center Industry Predictions for 2023
This report offers perspective on where the contact center industry stands today, plus our trend predictions for 2023.