We certainly don't envy the role of VP Customer Service these days. He or she has more channels than ever to manage: web, voice, chat, email, and (especially challenging) social media. Policies need to be designed to get the most out of each channel, while providing a consistent experience.
Demanding consumers
On top of all that, consumers are more demanding than ever. Consider this quote from analyst Jon Arnold:
Today, customers have more options to communicate than ever before, and we all use them every day – text, chat, click-to-call, video, mobility and of course, social media. Conventional telecom-based customer service is simply not up to the task for what enterprises need today, and customers now have higher expectations of how they want to communicate."
A lot at stake
And now consider the cost of not getting that right. Last year's Customer Experience Report explains why small decreases in customer satisfaction can have a bigger impact than you'd expect. Some points from that report:
Customer service is still the number one reason consumers recommend an organization, more than products or prices.
Word of mouth is the number one influence on consumers' purchasing decisions (76 percent), followed by customer reviews and online feedback at 49 percent.
79 percent of consumers that have had a negative experience with an organization told others about it and 97 percent chose to share their experience via word of mouth.
85 percent wanted to warn others about the pitfalls of doing business with that company and 66 percent wanted to discourage others from buying from that company.
Fonolo
Luckily, we think Fonolo can alleviate a lot of this pain with relatively little effort and expense.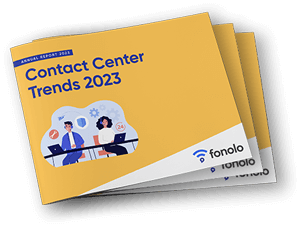 Trend Alert! Contact Center Industry Predictions for 2023
This report offers perspective on where the contact center industry stands today, plus our trend predictions for 2023.