Most people would agree that improving customer experience yields a positive impact on your bottom line. That's part of every presentation I make to prospective users of Fonolo. But assigning a quantitative value to that is always difficult.
Here's a great report that I just found by Forrester's Bruce Temkin making just that case. It's called Customer Experience Boosts Revenue. Temkin analyzed consumer data to figure out how a change in customer experience affects loyalty and how that can affect revenues.
Here are some of the key findings:
The revenue change from a 10 point increase in a firm's Customer Experience Index. It results in a $284 million change for every $10 billion in revenue (average across 12 industries).
Some of the industry-specific data:

Five largest revenue changes: Hotels ($311 million), credit card providers ($308 million), banks ($305 million), wireless carriers ($305 million), and TV service providers ($302 million).
The most change in additional purchases and reduction in churn: Hotels and banks.
The biggest increase from word of mouth: Airlines and wireless carriers.
The bottom line: Customer experience is a great investment.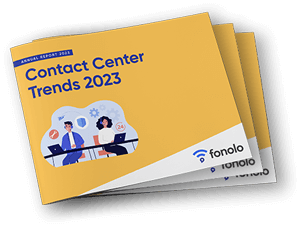 Trend Alert! Contact Center Industry Predictions for 2023
This report offers perspective on where the contact center industry stands today, plus our trend predictions for 2023.