Multi-site call centers
Many companies operating large call centers today have multi-site deployments; usually some mix of company-owned sites and outsourced 3rd party providers. This situation is, in fact, a key reason for many of the missed opportunities in improving the call center experience. And it makes any solution that requires on-premise installation and integration even more cumbersome. See Shai's post from last year: "The ubiquity of multi-site…"
However, setting up Fonolo is the same regardless of the number of call centers you operate, the technology behind them, and their location.
Deep Dialing
The reason Fonolo is able to connect callers directly into your phone system is its revolutionary technology called Deep Dialing. Fonolo creates a map of your phone menu through automated calling and speech recognition. It then uses this map to interact and navigate with your phone system on behalf of your callers.
Don't replace the IVR, build on it
Regardless of its flaws, the traditional IVR will be handling calls for many years to come.
Furthermore, you have a deep investment in your IVR. It is not just a tree of options, it is the front-end to key business processes your company has developed over the years.
Advantages of Deep Dialing
Deep Dialing makes Fonolo completely agnostic to your call center equipment. And because the service is delivered from the cloud, interacting with multi-site call centers is no problem at all. If Fonolo can call your number, it can map your phone system.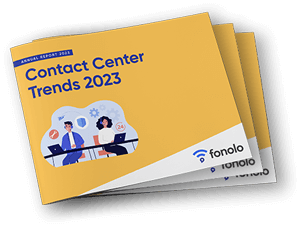 Trend Alert! Contact Center Industry Predictions for 2023
This report offers perspective on where the contact center industry stands today, plus our trend predictions for 2023.