Here's a fascinating study from Watermark Consulting: Return on Customer Experience Investments.
Here's how they describe the approach:
[we watched] … stock market performance for customer experience leaders and laggards over the past three years…  To identify the leaders and laggards, we used Forrester Research's 2007 Customer Experience Index study, picking the top ten and bottom ten…  From 2007 through 2009…  the customer experience Leader portfolio outperformed the broader stock market, generating cumulative total returns that were 41% better than the S&P 500 Index and 145% better than the customer experience Laggard portfolio.
They conclude:
Companies that successfully bring great, end-to-end customer experiences to the marketplace are rewarded—by consumers and investors. Their operational excellence and attention to detail, their simple and straightforward communication, their well-equipped and genuinely helpful front-line staff—the sum of these parts pays off in the end, even if the precise impact of individual components is uncertain at best.
Well, if you want "simple and straightforward communication" as well as "well-equipped front-line staff" then I can think of no better option that implementing Fonolo. Delight your callers without making any changes to your call center!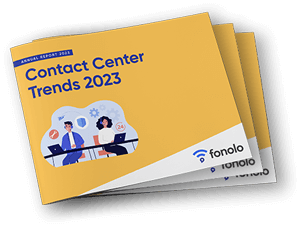 Trend Alert! Contact Center Industry Predictions for 2023
This report offers perspective on where the contact center industry stands today, plus our trend predictions for 2023.