The kids these days are demanding
We all know that poor customer experience will send your customers packing. If your target demographic is the 18-25 year olds, then you have an especially tough challenge. A recent study from Purdue looked at 18-25 years olds. It found:
100 percent of customers who were unsatisfied with their call center experience said they would refrain from purchasing from the company again. For all other age groups the number dropped to 63 percent…. Call centers should consider this a call to arms. Gen Y'ers expect their customer service encounters to mirror the speed, agility and simplicity of their smart phones, iPods and flat screens. But so far the call center industry has failed to do so.
– From CustomerManagementIQ
And they share opinions with their peers … a lot!
Combine that with a recent study which found that,
… at least once a week, 33% of active Twitter users share opinions about companies or products, while 32% make recommendations and 30% ask for them.
The April 2010 study by ROI Research was commissioned by Performics.
Potential customers are researching your company online
Here's a fun experiment: go to http://search.twitter.com and type "on hold with". The results that you will see aren't exactly "hard data" but you can quickly get a sense of which companies are doing well by their customers and which are not. This is a real-time always-on scoreboard for your company's efforts.
Nearly half of consumers report always or often using an online posting or blog to get others' opinions about a company's customer service reputation. But when consumers go online they're looking for "watch outs," saying they put greater credence in negative reviews on blogs and social networking sites than on positive ones (57% and 48%, respectively).
– American Express study called the
Global Customer Service Barometer
What it all means
Twitter, and social media in general, allows awareness of your customer service quality to propagate quickly through a community or the public at large. On the plus side, the benefits of providing good service can be felt more quickly and more strongly. On the downside, stories of bad service propagate even more quickly.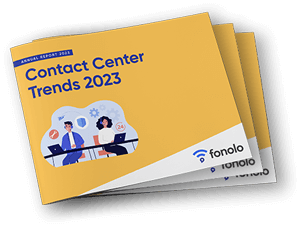 Trend Alert! Contact Center Industry Predictions for 2023
This report offers perspective on where the contact center industry stands today, plus our trend predictions for 2023.