ITExpo is one of the mega events of our industry, and Fonolo is participating in a big way this year.
If you're planning to be in Austin for the show, which runs Sep 13-15, we'd be thrilled if you stopped at our booth (#422). You'll be able to glimpse the future of the call center experience via live demos of Fonolo — both web and mobile. We'll be showing some capabilities there that haven't been seen before, or mentioned in this blog. You'll also be able to chat with the Fonolo team about our product and see if it is a fit for your call center. If that's not enough incentive for you, we'll also be raffling off some great prizes!
I will be speaking on two panels, both on September 15th:
Harnessing the Customer Service Experience with a Multi-Channel Approach
Description: Today's consumers are sophisticated. They want flexibility, and simply don't want to be tethered to just one way of doing business with a company.  As a result, a one touch-point approach – by way of the landline telephone – doesn't cut it. On a given day, consumers go to and fro between their mobile phone, computer and landline – all based on what is convenient to them to make it through their hectic days. As consumers' habits change, so too must the approach that businesses take with their customer service solutions….  cont'd
This panel is part of the Call Center track, and will be at 11:00 am. We've tackled the topic of multi-site call centers several times on this blog, including this post last month by Jason.
 Bringing the Social Experience into the Business Context
 Description: As businesses continue to migrate to new work patterns, including more mobile and remote workers…greater collaboration with customers, and an ever-increasing number of connectivity options… they often become lost in a sea of applications and services, ultimately reducing the benefits of each one. … [Thus] presenting an enormous opportunity for businesses to leverage the social media experience in their business collaboration environments… cont'd
 This panel is part of the Business Collaboration track and will be at noon. The impact of social media on customer service was the topic of a webinar I did in May, and can now be viewed on-demand. I also discussed the topic in this blog post: How Twitter is changing the customer service equation.
We hope to see you in Austin!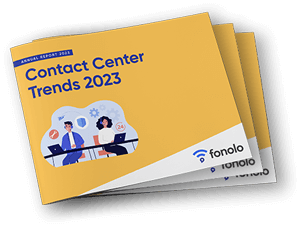 Trend Alert! Contact Center Industry Predictions for 2023
This report offers perspective on where the contact center industry stands today, plus our trend predictions for 2023.