A recent survey shows that banks are lagging behind other industries when it comes to responding to social media complaints. (Hat tip to Business Insider.)
The public relations firm MHP Communications asked representatives at 35 global banks about their use of social media for customer service. Although about a third used social media in their personal life, fewer than 3% used it on the job. Of banks that are using social media, customer service is the least likely way in which they use it (25%).
This is surprising because in many other areas of technology, the banks are often ahead of the curve. One topic I've discussed on this blog on several occasions is their rapid embrace of smartphones as a new interface for customer service. See In Canada, Mobile Banking is Used by Over 12% of Mobile Subscribers  and RBC releases mobile app. Now all the banks are in.
This is a odd disparity. I think it is safe to say that smartphone users are more likely to be users of social media. After all, 40% of tweets come from mobile devices, according to Twitter's CEO Dick Costolo. (As that was 10 months ago, it's probably higher now.)
I think banks will soon realize that it doesn't make sense to make a big bet on mobile without embracing social media at the same time.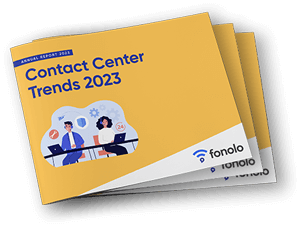 Trend Alert! Contact Center Industry Predictions for 2023
This report offers perspective on where the contact center industry stands today, plus our trend predictions for 2023.