Join Fonolo CEO Shai Berger for a free webinar on:
Wednesday March 7, 2012 @ 2:00pm EST/ 11:00am PST
Call centers today subject callers to a number of aggravations: Annoying phone menus, lengthy hold-times and the unnecessary repeating of information to agents. But all that is about to undergo a radical change, powered by the growing impact of social media, the proliferation of smartphones and the rising expectations of today's consumers.
The call center of the future fixes these flaws, resulting in delighted callers and significantly lower costs-per-call. This webinar will show you how that future is closer than you think.
Consider how most calls begin: The ubiquitous phone menu (IVR) is supposed to connect callers with the right agent, but frequently it results in callers "zeroing out", which helps nobody. Now consider another flaw: Callers, who have been prompted by the IVR to provide information, are then forced to repeat this same information, when finally connected to an agent. For decades, these flaws have been a source of irritation for consumers and a source of added costs for companies. But now, "web generation" customers who demand more are quick to air their grievances on social networks like Facebook and Twitter. The pressure is on for companies to improve.
Fortunately, there are new ways for companies to upgrade their call center and improve the interaction with customers, without making any changes to their existing infrastructure. The key is to use the ubiquity of the web and smartphone to make the call center smarter about how agents and customers interact.
What attendees will learn:
The traditional call center flaws (phone menus, waiting on hold, repeating information to agents) are hurting customer experience and raising costs.
Fixes to these flaws are available today and can be implemented without any infrastructure changes, leading to happier callers and lower costs.
Today's customer has little patience for poor customer service and is quick to complain on social media networks
The ubiquity of the web and smartphone is the key to making call center interactions smarter.
Who should attend:
VP/Director of Call Center/Contact Center
VP/Director Customer Experience/Customer Satisfaction
VP/Director User Experience
VP/Director Website Optimization
VP/Director Ecommerce/Digital Channels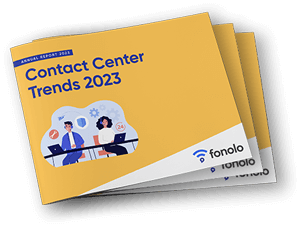 Trend Alert! Contact Center Industry Predictions for 2023
This report offers perspective on where the contact center industry stands today, plus our trend predictions for 2023.