Q: I've been struggling with trying to implement some new customer experience strategies with my call center but I just don't have much of a budget to play with. I was at The Call Center Summit in January and remember seeing Fonolo but assumed that it wasn't within our company's financial reach. Just wondering how you can help.

Jeff P. – Austin, TX
A: Hi Jeff, thanks for your question.  Fonolo ties in with any call center (big or small). In fact, our call center solution seamlessly integrates with the web and smartphone.
The integration is so seamless that we recently had a client who deployed Fonolo without even alerting the call center manager. That manager was quite surprised when he learned that Fonolo was already running and there was no effort required on his end. This is possible because calls through Fonolo look like regular inbound calls, so your IVR, AVD, CTI and other systems won't be affected at all. The call center soon noticed that their customers were happier because they had dramatically decreased their hold times.
As for cost, Fonolo recently announced new pricing. Jeff, if your call center is small (up to 10 agents), you might be interested in the Starter Package.
As an FYI, The Fonolo team will be at the upcoming Enterprise Connect Conference in Orlando, FL at the end of March, if you're going to be there, drop by and we can further discuss.
– Shai
Feel free to send in your questions to shai@fonolo.com.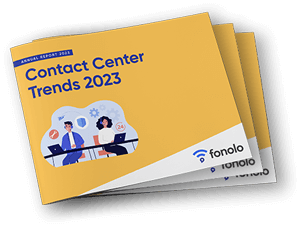 Trend Alert! Contact Center Industry Predictions for 2023
This report offers perspective on where the contact center industry stands today, plus our trend predictions for 2023.