Call centers need to be mindful of trends related to customer behavior.  What's trending right now is the generational shift related to the use of mobile devices. When the web emerged as a viable self-serve platform, it led to a dramatic change in the behavior of consumers.  Smartphones have exploded on the market and there is a similarly dramatic change in behavior. Amongst the younger generation, smartphones have become the first choice for customer service, followed by the web and call centers.
The problem.
The smartphone is always in the hand of the consumer and, let's face it, a great interface for customer service. Companies recognize customers are doing more with their smartphones but the challenge is connecting the need to the call center. If we look at the banking industry, consumers can perform transactions through their app. But what happens when they run into a problem and need to talk to someone? They're forced to make a regular phone call, ultimately tossing away all the smarts in a smartphone. Not a very efficient use of the opportunity.
A big trend for the next decade: Teaching the call center to make use of all the things the smartphone can do.
In the video below, ITEXpo spoke to Shai Berger, Fonolo's CEO, to discuss this rising trend.  Feel free to leave us a comment and share your thoughts on this hot topic.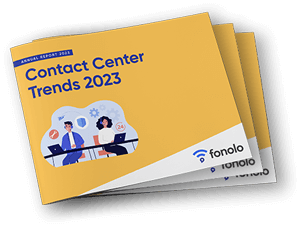 Trend Alert! Contact Center Industry Predictions for 2023
This report offers perspective on where the contact center industry stands today, plus our trend predictions for 2023.