Q: If we deploy Fonolo, how much training will our call center agents need? Mike B.
A: Hi Mike, believe it or not, the answer is zero training.  When a company deploys Fonolo, the widget is accessed through the web or smartphone. The cloud-based technology requires no set up or integration and works seamlessly with existing technology.
Implementing Fonolo's "Hold for Me" feature would require very little training that educates agents on how to accept and personalize the call from the customer. This process allows agents to focus on solving customer problems instead of handling irate calls stemming from long hold times.
– Shai
Feel free to send in your questions to shai@fonolo.com.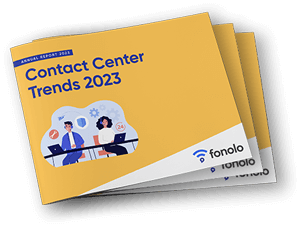 Trend Alert! Contact Center Industry Predictions for 2023
This report offers perspective on where the contact center industry stands today, plus our trend predictions for 2023.