The evolution of customer service is being shaped by changing trends in business, consumers, and the evolution of technology. Its influence as a strategic differentiator continues to grow. In fact, 86% of companies say customer experience is a top strategic priority.
A more competitive business environment means that customers do not hesitate to switch providers because of poor service. Companies have to respond to these emerging trends just to stay in the game.
How will customer service evolve in 2012?
1. Mobile
Customers are doing more with their mobile phones than ever before. There are more than 5.9 billion mobile subscribers today, over 87% of the world's population. The convenience and availability of mobile devices, combined with integration into Twitter and Facebook is generating a huge demand for mobile services.
Businesses are responding to this demand by providing mobile customers with an array of service options. Telus' Mobile Customer Self Service™ offering is just one example of this trend that we forecast will continue to grow exponentially.
2. Social Media
Social media is changing the customer service industry. It is easier than ever for customers to complain about a company and have their voices heard by millions through social media channels such as Twitter, Yelp, and Facebook. Surprisingly, only 29% of Twitter complaints were responded to by companies, despite the fact that 83% of complainants liked it when the offending company responds.
This shows that businesses are slower to adapt to emerging communication channels than consumers. More and more organizations are looking to establish effective customer service on social media channels, a trend we expect to continue. This is transforming avenues such as Twitter from one-way customer-venting channels into two-way customer service resolution channels.
3. Community-Based Service
Online customer communities such as message boards are a win-win for both companies and their customers. The combined number of support personnel (customers) and their knowledge is usually more than what a business can offer. Customers get their issues resolved promptly by their peers, resulting in fast service. Businesses save a lot of money by having to hire fewer customer service representatives.
The growing popularity of community support software providers such as Parature and GetSatisfaction are indicative of this trend. In fact, these companies now offer a joint solution that offer organizations the ability to reap more benefits from online community-powered support than ever before.
4. The Cloud
Cloud-based customer service offerings are gaining more consideration from industry professionals. According to Kate Leggett at Forrester Research, "In 2012, many first-time customer service technology buyers will look first at a SaaS solution to see if this approach can meet their needs."
Gartner Research predicts that at least 75% of customer-focused call centers will use a form of the cloud in their call centers in 2013. The cost savings and ease of management provided by the cloud are the primary reason for its growth.
5. Customer Feedback
The best way for companies to improve service is to ask their customers how. Customer feedback channels continue to grow at an astounding rate and include YouTube, Twitter, Facebook, Hellopeter.com, and GripeVine, just to name a few. The ability to collect and analyze feedback across all of these channels becomes a powerful source of information for the companies that are able to implement this strategy.
Unfortunately, customers adopt these channels much faster than businesses, so we can expect an ongoing game of cat and mouse to occur. Best-in-class providers will be able to aggregate and analyze customer feedback across diverse channels and use them to both empower their agents and take appropriate action to improve the quality of their service. The proliferation of new social media channels has made it much more difficult for businesses to collect and make sense of this data.
6. Insourcing
Many North American organizations have outsourced their customer service operations overseas over the past few decades. Why? To cut costs. This has caused the quality of service to suffer, leading to customer churn. It has also angered North American customers who view outsourcing what used to be American jobs as borderline traitorous, especially with the economic situation they are in.
We foresee this trend reversing for two reasons. Firstly, companies are feeling the negative impact outsourcing has on their customer service. While they're able to cut costs, the quality of customer service takes a nosedive. Acquiring new customers to replace those lost from poor service is a costly and daunting endeavor.
For example, in December 2011, as a result of an agreement with its unions, US Airways announced it is bringing 400 customer service jobs previously outsourced to Manila back to centers in North Carolina. AT&T recently decided to bring back 5,000 customer service jobs back to the U.S as a result of its merger with T-Mobile.
Furthermore, in an effort to encourage insourcing, an anti-outsourcing bill targeting call centers was recently introduced in congress. This trend should be a win for customers, the economy, and businesses who implement it correctly.
7. Voice of Customer (VOC)
More companies are implementing VOC programs for their proven ability to positively impact the customer experience. Companies collect feedback to help them make improvements across their organization. The growth in VOC is driven by its benefits such as better customer loyalty and retention.
Despite the increased adoption of VOC, many organizations are still not reaping its full value. Aligning the right people and processes for maximum impact remains a challenge. Taking action on the customer feedback that is collected is another hurdle most companies face. As the VOC trend increases, getting it right remains a challenge.
8. Video
We predict video will be increasingly used to provide customer service and support in 2012. With approximately 70% of global online consumers watching online video, consumers have an alternative way to stay informed.
A well put-together video makes information easier and faster to understand and share. This is why people first flock to video tutorials before reading a manual, asking help on forums, or reaching out to an agent. Video as a cost-effective channel successfully empowers customers to resolve their own issues, ultimately deflecting calls from the call center.
Want to read about the latest trends? Download the full report below!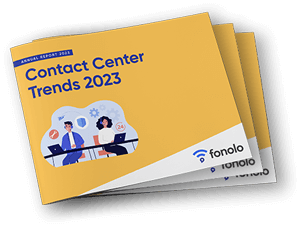 Trend Alert! Contact Center Industry Predictions for 2023
This report offers perspective on where the contact center industry stands today, plus our trend predictions for 2023.