Excitement. Anticipation. Sugar Rush.
These are just a few thoughts that come to mind while I get ready for the upcoming Enterprise Connect Conference in Orlando, FL. As one of the newest members of the Fonolo team, I'm excited to have been brought in at such a vital time.
I've been busy with creating new marketing collateral which I'll be unveiling at next week's conference.  Here's a pic of the chaos on my desk – a sneak peek of the new banners, a product sheet and an info post card. (In the background is Shai being a little shy.)
I mentioned in an earlier blog that Fonolo was nominated for the prestigious Best of Enterprise Connect Award. As we get closer to the March 28 announcement date, the office is buzzing in anticipation of the outcome!
If you're attending the Enterprise Connect Conference, we'd love for you to drop by booth #1429, meet a few of our team members and pick up some of our new material. I'll be there with Shai Berger and Chris McLean.
We think Fonolo is a sweet deal, for companies and their consumers. So while you munch on one of our chocolate bars, we'll show you how we can take the 'crunch' out of call center costs …
– Xania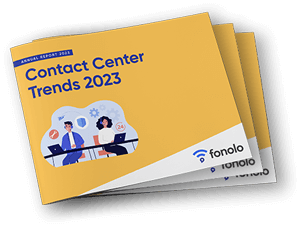 Trend Alert! Contact Center Industry Predictions for 2023
This report offers perspective on where the contact center industry stands today, plus our trend predictions for 2023.