Q: Without getting too technical, can you explain virtual queuing? How different is it from 'click to call'?
Marie S. – Orlando, FL
A: Good question.  Virtual Queuing is more of an industry term, which is slowly starting to seep into consumer conversation.  Basically, Virtual Queuing is the idea of getting a call-back instead of waiting on hold. Click-to-call is a way to offer virtual queuing to callers. The click-to-call solution doesn't always include virtual queuing, although it should. From either your browser or smartphone, virtual queuing allows customers to receive/schedule a callback from an agent instead of endlessly waiting on hold.
It's really a win/win situation when you think of it.  Consumers are happier when they aren't placed on hold, and bottom-line results are delivered to businesses through cost reductions and customer loyalty. Sadly, not all businesses have adopted this into their call center strategies. In the meantime, try Fonolo's demo, which will demonstrate how virtual queuing works.
Thanks for your question Marie!
– Shai
Feel free to send in your questions to shai@fonolo.com.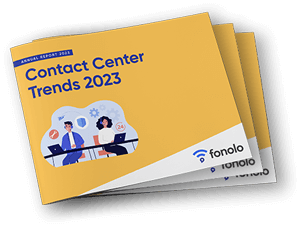 Trend Alert! Contact Center Industry Predictions for 2023
This report offers perspective on where the contact center industry stands today, plus our trend predictions for 2023.