What happened???
On March 3rd, United Airlines attempted to merge their reservation system with Continental. It did not go as planned, creating customer mayhem because of ensuing technical glitches on the website and ticketing functionality.
The lines to their call center were jammed with irate customers who were dealing with extremely long hold times and problems booking their tickets.
United Airlines is no stranger to bad press. I'm sure you all remember United's 2009 debacle that dominated the headlines for customer service gone bad.
If not, check out the vid here: "United Breaks Guitars." It was a PR fiasco that went viral – a company's worst nightmare. United has done it again, albeit on a lesser scale, losing trust with their remaining customers.
A month has passed since the March 3rd train wreck where customers placed United Airlines in the social media crossfire. We've uncovered some alarming statistics through OnHoldWith, a website that tracks and reports complaints about waiting on hold on Twitter.
The Impact on United's Bottom Line
Customers were furious over incredibly long hold times, and naturally vented their anger on Twitter. Below are some heated tweets collected over the past month. In addition to expressing frustration, many referenced the fact that they would be ditching United Airlines and seeking out another carrier to fly with.
These staggering results highlight the impact poor customer service has on a company's reputation and ultimately, their bottom line.
Customer Complaint Aftershock
OnHoldWith.com measures the number of complaints related to long hold times. The chart below shows that United Airlines spent weeks recovering from the March 3rd situation. While they've finally managed to lower hold times (hold times that frequently exceeded one hour), the damage to its reputation has already been done.
United Hold Time Complaints – Number of Tweets by Day – March 2012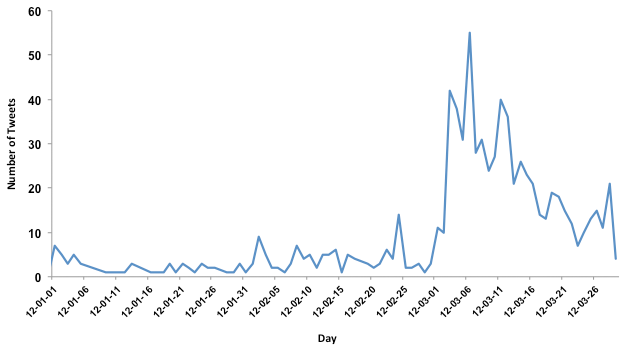 United Airlines customers flocked to Twitter to vent their frustration while #onholdwith their call center. The steady spike occurred during 12-4pm and most likely coincided with the highest hold times and call volume for the day.
United Hold Time Complaints – Tweets By Hour – March 2012
How It Could Have Been Prevented
The blow to United's reputation would have been softened had they anticipated the worst, and set up a contingency plan before attempting to integrate two significant technical systems.
A proactive approach to customer service would have saved them. Having the additional infrastructure and agents to handle a surge in inbound customer calls would have mitigated hold times that lasted over one hour. Instead, it took them almost a month to put 600 additional agents in place, which is too late. They chose to be reactive, and it cost them dearly.
United's disaster should teach all companies to have an emergency-preparedness plan in place should they be unexpectedly overwhelmed by spikes in call volume.
What Does the Future Hold?
The customer service issues caused by United's airline merger serves as a great case study for other airlines. Recently, JetBlue Airways and LOT Polish Airlines have teamed up so that customers can "seamlessly book connections through JetBlue's home at New York's John F. Kennedy International Airport and LOT's hub at Warsaw's Chopin Airport".
We will be on the lookout for any customer support problems that arise once the program is launched.
About OnHoldWith.com
OnHoldWith.com is a website maintained by Fonolo that provides Twitter-based statistics of consumers as they vent their anger regarding long hold times. It catalogs tweets related to the #onholdwith hashtag and makes them publicly available so that companies are alerted when there are problems with their hold times. Fonolo's cloud-based solution replaces hold time with a customer call-back, solving this issue for offending companies that subscribe to its services.
Give #onholdwith A Try
Frustrated with long call center hold times?
Simply log into your Twitter account, let everyone know who you're #onholdwith and your message will be shared in OnHoldWith's complaint stream. The offending company will automatically see your tweet in their feed! There is power in numbers and, hopefully, the pressure will motivate companies to make changes so you and millions of other customers aren't suffering through a horrible call center experience.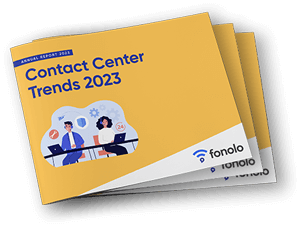 Trend Alert! Contact Center Industry Predictions for 2023
This report offers perspective on where the contact center industry stands today, plus our trend predictions for 2023.