No one should have to wait on hold anymore. Virtual queuing technology — which replaces hold time with a call-back — has been understood and available for over a decade. And yet, the majority of call centers still put callers on hold.
Why is this so? There are quite a few reasons and I've discussed them on this blog (here and here) and on my personal blog (here and here).
But good news is on the horizon. One day soon, virtual queuing will be the norm and waiting on hold will be extinct like the Dodo. Below are 5 signs that show we're approaching a turning point.
1. Analyst Coverage
Last year, we saw the first dedicated analyst report on virtual queuing. (Download DMG's report here.)
This year, for the first time, the venerable Call Center Buyer's Guide from Contact Babel dedicated a full chapter on virtual queuing. You can download it here. More and more articles on the topic are being published, like this one in Focus: Virtual Queuing – the End of Music on Hold?
2. All The Major Vendors Are On Board
Every major call center vendor now has some form of virtual hold competitor.  For example, Avaya has "Call-Back Assist", Cisco has "Courtesy Callback", and Genesys resells the Virtual Hold product.
There are notable downsides to these offerings. They …
a) won't work in a multi-vendor environment,
b) probably won't work with an outsourced call center, and
c) require considerable effort to set-up and configure.
But the fact that they are available is definitely a step in the right direction. (If you have any experience deploying these products, I'd love to hear from you in the comments.)
3. Start-ups
At Fonolo, we've been tackling this problem since 2009. We're not alone. At least four other start-ups have emerged with differing approaches. I'm sure we'll see more emerge in the coming year. It's too juicy a problem to resist.
4. Industry Recognition
I don't want to toot our own horn, but Fonolo has been racking up some impressive accolades including the prestigious Enterprise Connect Award. Keep in mind that the smart folks at Enterprise Connect surveyed the broad arena of "enterprise communication" and had many impressive companies to choose from; companies with more revenue, larger staff, and more funding. But they saw what many industry people are seeing: that the call center is about to undergo a major change, so this is an area where innovation is most intense right now.
5.Growing Pressure From Social Media
People have never liked waiting on hold. Study after study has shown that it is one of the most dreaded parts of the call center experience. What's new is that social media offers a very public platform for consumers to vent their frustrations.
I've said this before and I don't mind repeating myself, the fact that these complaints remain part of a permanent and searchable record means they can really tarnish a company's brand. See our side project OnHoldWith.com for an eye-opening view into this phenomenon. (Or read Omar's excellent post: Valuable Lessons from United Airlines' Customer Service Fail, which drew data from OnHoldWith.)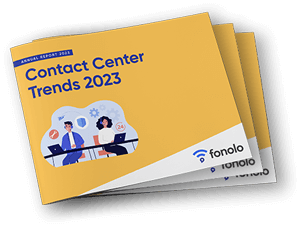 Trend Alert! Contact Center Industry Predictions for 2023
This report offers perspective on where the contact center industry stands today, plus our trend predictions for 2023.