Most people don't associate call center technology with innovation or excitement. For many, it's a business expense, a necessary evil, and the source of many headaches.
There are several different types of call center technology, which handle various aspects of operating a contact center.  This blog contains a rundown of every single major player in the contact center space.
Types of Contact Center Technology
Call Center Telephone Technology
The tech that works behind the scenes of a contact center to keep everything working smoothly predominantly concerns the telephone system.
There are the standard types of technology that underpins much of the call center.
PBX (Private Branch Exchange)
ACD (Automatic Call Distributors)
IVR (Interactive Voice Response)
VOIP (Voice Over Internet Protocols)
SIP Trunking (A Type of VOIP)
And then you have more advanced, innovative technology that helps to bridge the gap between agent and customer.
Voice Biometrics
Voice has become a reliable way to authenticate a person's identity because it is unique to each individual. Imagine not having to provide personal security questions at the start of every call with your bank, insurance, and pharmaceutical company. According to the E-SIGN Act, your voice signature is legally binding, making it a convenient way to complete transactions.
Interactive Video
With customer support taking top priority, interactive video response is causing quite a stir with visual phone menus and instructions. This enhanced feature allows businesses to play advertisements, promotions, or even a music video while customers are waiting on hold.
Interactive video isn't practical for every call center, but the added dimension opens up a world of new possibilities for organizations to stand out.
Universal Queuing
Universal queuing has its implementation challenges. But the pay-off from combining voice, email, chat, and social media into a single 'universal' virtual queue makes for a more consistent and streamlined customer support experience. The customer's single view is the Holy Grail for many call centers, although most fall short in achieving it. An organization able to implement universal queuing can gain a clear advantage against its competitors.
Intelligent Call-Back
I've saved the best for last. Web call-back eliminates the frustration from phone menus and waiting on hold by placing a widget on a website for customers to request a call-back.
Analytics & Predictive Software
The final essential type of call center technology helps managers predict demand and analyze customer interactions to improve their service delivery.
Predicting contact volume loads and resource limits
Calculating required resources, occupancy etc.
Analyzing customer journey bottlenecks and friction points
Customer Communication & CRM software
This is what most people think of when they think of call center technology. There are hundreds of combined CRM platforms like Five9, Hubspot, Avaya, or NICE that come with all the technology you need to run a call center efficiently. The elements different, but a good CRM software will include:
Customer details & contact records
Support ticket management tools
Phone, email & social media integration and tool
Top Contact Center Technology Platforms
Twilio is a fully-programmable cloud-based contact center platform. It's infinitely flexible and deployable in an instant and underpins many other contact center platforms. Using Twilio, companies can deploy an omnichannel contact center and customize every element, including the agent interface, communication channels, interaction routing and reporting.
Twilio integrates with any other software or channel, even your custom code. Twilio comes with all the features you need in the modern contact center.
Genesys Cloud is an on-premise and cloud-based call center solution for businesses of any size and industry. Genesys' Cloud solution is built to work on any channel and follows the conversation everywhere, turning calls, email, chats and social comments into a seamless exchange.
Customer insights and metrics are presented in a single, unified interface, and automatic updates are provided. The solution lets users create IVR flows, customize outreach, create proactive, targeted campaigns and enhance agent productivity. It offers multichannel routing, customer relationship management integrations and custom reporting.
Talkdesk is an enterprise cloud contact center empowering companies to make the customer experience a real competitive advantage. It uses interactive voice response (IVR), automatic call distribution (ACD) and skills-based routing, callers are routed to the most qualified agent to meet the needs based on customizable data. The easy-to-use interface offers robust functionality with advanced features, comprehensive reporting and seamless integrations with 25+ business tools.
Five9 is an all-in-one cloud contact center solution. Powered by Practical AI, Five9 enables agents to provide customer experiences across phone, email, chat, mobile, social and more.
Five9 brings the cloud's power to more than 2,000 customers worldwide, facilitating more than five billion call minutes annually. The AI-driven Five9 Engagement Workflow uses NLP and intelligent routing to get customers to the right agent. At the same time, Five9 Genius derives customer intent data from providing agents with next step guidance before picking up the phone. Four adjustable dialling modes skip no-answers and busy signals to triple agent talk time.
Avaya Aura platform is a cloud-based and on-premise contact center solution that caters to businesses across all industries. Avaya Aura is Avaya's core communications platform delivering company-wide, people-centric collaboration and supporting full unified communications and contact center solutions for midsize to large enterprises.
Their all-in-one cloud communications solution is designed for how you're working now. It gives you the platform to empower your employees with faster, always-on continuous collaboration. And it helps you power your business with flexible experiences built for the work world of today and the challenges of tomorrow.
NICE inContact is cloud-based call center software that helps businesses maximize lead quality and minimize client interaction costs. NICE inContact combines Omnichannel Routing, Workforce Optimization, Automation, Analytics, and Artificial Intelligence in the cloud.
NICE inContact offers various call routing features, like IVR, CTI and ACD. The system also includes workforce optimization capabilities such as e-learning, hiring and workforce management.
NICE inContact's DEVone developer program is an extensive partner ecosystem, providing applications from partner companies on the CXexchange marketplace designed to integrate easily. NICE inContact is recognized as a market leader by the leading industry analyst firms.
HubSpot Service Hub is a cloud-based customer service platform that makes it easy to manage and connect with customers and truly help them succeed. The Service Hub tools help you build your ideal customer experience, create self-service solutions, and grow through customer feedback and advocacy.
HubSpot Service Hub is designed for small to large businesses to manage contacts, requests, deals, appointment schedules and more. It includes ticketing & automation, a knowledge base, live chat & bots, customer feedback & survey tools, and reporting.
HubSpot Service Hub facilitates integration with various third-party solutions such as SurveyMonkey, Eventbrite, Wistia, Zendesk and more. Pricing is available on monthly subscriptions, and support is extended via phone, live chat and documentation.
UJet was the first contact center technology designed specifically for the smartphone era. It's an enterprise-grade platform, suitable for companies with 50+ agents, that provides modern cloud contact center software with phone, chat and in-app support.
UJET powers the world's largest elastic CCaaS tenant at up to 22,000 agents globally.  It is trusted by innovative, customer-centric enterprises like Instacart, Turo, Wag!, and Atom Tickets to orchestrate predictive conversational customer experiences.
UJET offers integrations with Salesforce, Zendesk, Desk and Kustomer. Customer support is offered via online chat, knowledge base and phone.
RingCentral Contact Center is an omnichannel solution that lets customers choose their preferred method of communicating with your company, including voice, chat, social media, SMS, email, and more.
The solution is available through a web-based subscription, making it technology agnostic and supporting agents in multiple locations. The integrated suite offers Automatic Call Distribution, Interactive Voice Response, CTI, Auto Dialer, and PBX.
RingCentral integrates with CRM solutions like Salesforce, Zendesk, Microsoft Dynamics, and Oracle Sales Cloud. The tiered subscription options are billed monthly and vary based on desired features.
Nextiva Service is a customer relationship management (CRM) and live-chat solution designed for businesses of all sizes.
The platform brings all communication channels — voice, video, collaboration, SMS, chat, and surveys — together in one place. This helps businesses access the information they need to provide outstanding customer experiences and drive business results. Intelligence and automation are built-in, so you can focus on helping customers.
Enterprises trust Nextiva's platform for its security and integrity. Nextiva's data centers are ISO/IEC 20071 certified, and its platform is compliant with SOC 2. Nextiva also offers solutions that comply with PCI and HIPAA. Nextiva has had zero outages since 2018 — keeping its promise of 99.999% uptime — while serving 100,000+ customers holding one billion+ conversations a year.
CloudTalk is a user-friendly cloud-based phone software for sales and support teams. It enables businesses to streamline communications using virtual call center systems. It allows executives to manage inbound/outbound calls, extract interaction history from various sources, and provide personalized support to clients.
Critical features of CloudTalk include automated call distribution, interaction recording, voicemail, interactive voice response (IVR) and custom reporting. Businesses can utilize wallboard to gain real-time visibility across staff activities and identify behaviour trends using sentiment or emotional analytics.
Thanks to seamless integration with the favourite tools (such a CRM, Helpdesk, or e-commerce platforms, etc.), CloudTalk helps companies deliver first-class customer experiences, resulting in a profit. 1000+ happy customers use Cloudtalk from companies as DHL, Electronic Star or Kärcher.
Virtual Contact Center by 8×8 is a cloud-based call center platform for SME businesses. This solution also supports other interaction mediums such as voicemail, email, web callback, web chat and more.
8×8 Contact Center is designed to enable any business to deliver a positive customer experience with a complete multi-channel solution and extensive customer analytics. 8×8 includes interoperable team messaging, removing corporate silos that prevent information sharing and degrade customer support. Agents can even share their contact numbers with customers to resolve tickets.
Zendesk is a cloud-based help desk management solution serving more than 160,000 customers across many industries in over 30 languages.
Their call center solution offers customizable tools to build a customer service portal, knowledge base and online communities. It also allows you to hold conversations with customers on any channel while keeping all the interactions and information in one place. It's a unified agent workspace — helping your teams provide a faster, more personal experience to your customers.
Vonage creates cloud-based call center technology for small and midsize companies. Their Contact Center for Salesforce is #1 in Salesforce AppExchange user reviews, with a 4.9/5 Salesforce AppExchange rating.
Core features include call announce and screening, multiple devices on a single extension, do not disturb settings and more. Calls are managed through the admin portal, where account managers can review call recordings, set up dialling restrictions, adjust dashboard visibility for employees and view billing information.
Vonage's solution delivers unmatched Salesforce integration. Voice and Salesforce digital channels are seamlessly blended to provide a consistent customer experience across all channels while reducing administrative complexity.
Ozonetel CloudAgent offers a cloud contact center for inbound, outbound and blended communications. The application's key features include multi-channel ACD that covers voice, email, SMS, social media, IVR, an outbound dialer, and quality monitoring tools for supervisors. The ACD comes with skill-based routing and an intelligent universal queue.
Ozonetel CloudAgent also offers a CTI (computer telephony integration) system with screen pops for complete contact information, including the call and caller history context. This can be integrated with your CRM and other 3rd party applications. Real-time call recording and interaction analysis of historical calls, along with combined scoring, reports and graphs, give supervisors greater insight into their agent's performance.
CloudAgent facilitates integration with various third-party systems such as Sugar CRM, Zendesk, Salesforce, Twilio, Google Analytics and more. Pricing is available on request, and support is extended via phone and other online measures.
Bitrix24 provides a complete suite of social collaboration, communication and management tools for your team, including CRM, files sharing, time management, calendars, call center technology and more.
Bitrix24 has been chosen by over one million organizations worldwide and is free for unlimited users in the cloud. The On-Premise version of the platform comes with source code access and can be installed on your server.
They offer many customer service channels, including rentable telephone lines, live chat, and email queues that integrate into Bitrix24's task management software and CRM.
Dixa makes 'customer friendship software.' Their call center technology unifies voice, chat, email, and social messaging apps in one single platform, enabling brands to have meaningful conversations, driving customer loyalty, and ultimately "customer friendships." With Dixa, agents have all the context they need to provide fast, efficient, and effective customer service every time.
Real-time performance stats, intelligent routing, seamless integrations, automation, customer recognition and much more helps you prioritize your customers and how to give the best possible service every time. Other features include VoIP, call recording, IVR, call transfer and automatic callback.
LiveAgent is a fully-featured help desk software that helps you bring personalization to your customer interactions. It comes with an all-in-one help desk solution for e-commerce businesses at the small and midsize level. The platform offers live chat applications, ticket management, online self-service portals and change and license management, all as either in-suite or standalone applications.
LiveAgent is offered as both web-based (cloud) software and on-premise installations. The cloud option is priced on a pay-per-user basis, and the on-premise options use the up-front pricing model, based solely on the number of agents.
Integra's uContact is an omnichannel call center solution that enables its users to manage all their voice and text interactions in the same place. uContact is suitable for contact centers of all sizes. Primary features include automatic call distribution (ACD), interactive voice response (IVR), PBX, progressive and predictive dialers, webchat, real-time monitoring and analytics.
Other features include call recording, quality management and social-media integrations. Gamification features include a visual game interface with scores based on employee activity and achievement badges. Text messaging, click to call and voice broadcast features are also offered.
Zoho Desk brings to you traditional customer service telephony that has been redesigned for the cloud. It's cloud-based call center tech designed for businesses of all sizes.
Zoho Desk collates interactions from various media (email, phone, chat, social media, a self-service portal, forums and forms) and presents them in one place. Ticket assignment, escalations, and notifications can all be automated. Their solution provides customizable and scheduled reports, happiness ratings and a graphical dashboard for analyzing customer satisfaction.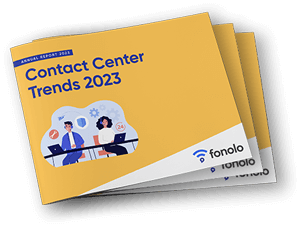 Trend Alert! Contact Center Industry Predictions for 2023
This report offers perspective on where the contact center industry stands today, plus our trend predictions for 2023.