With double-digit growth forecasted in many emerging markets such as China, India, Russia, and Brazil, the contact center market continues to evolve. Vendors are increasingly offering contact center software in addition to more traditional hardware-centric offerings.
Cisco, Avaya, and Alcatel-Lucent continue to dominate with over 70% of market share in the global market. However, other vendors are growing revenue by targeting emerging markets, niche applications or specific verticals (ie: service providers). They are also competing on technology, especially when it comes to cloud-based offerings.
Let's take a look and see which vendors are giving 'the big three' a run for their money
Altitude
Altitude uCI is a highly scalable, software-based contact center suite that offers interoperability with a wide range of PBX and IP-PBX vendors. They offer multi-channel inbound and outbound capabilities and competitively priced modules including IVR, workforce optimization, routing, call recording, and scripting. They are dominant in Europe and Latin America where 70% of the top contact center outsourcers choose their platform.
Huawei
A thorn in Cisco's side, Huawei has grown into a serious contender for contact center deployments in China and other developing markets such as Africa, Latin America and Eastern Europe. They offer a range of platforms suitable for medium and enterprise businesses that include IP switching, routing, IP-PBX, IVR, CTI, CRM, call recording, and a host of other capabilities both directly and through channel partners.
Interactive Intelligence
A global IP business communications software provider, Interactive Intelligence offers a scalable and tightly integrated contact center suite available as cloud-based, on-premise, and hybrid deployments. Customer Interaction Center™'s software platform offers a wide range of capabilities including IP-PBX, PBX, multi-channel routing and recording, IVR, and knowledge management capabilities. They are best suited for companies looking for a scalable, all-in-one contact center suite.
Aastra
Aastra's Solidus eCare Multimedia Contact Center (wow, that's a lot of words) is a good fit for small to medium-sized environments that want telephony, multi-channel, and mobile-phone capabilities from a single vendor. With a range of capabilities including IP routing and queuing, interactive voice response, telemarketing, and web chat, Aastra has established a large user base primarily focused in Europe.
Mitel
Mitel offers both a business edition of its solution for single-site contact centers with up to 25 agents and an enterprise edition for larger and more sophisticated environments. Primarily focused in North America, they offer a full range of capabilities including workforce management, multi-channel automatic call distribution, outbound dialing, screen pop, and remote agent support.
Which other contact center software vendors would you add to this list?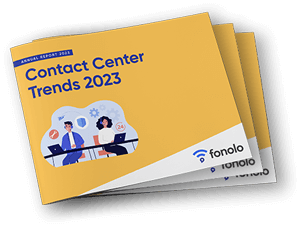 Trend Alert! Contact Center Industry Predictions for 2023
This report offers perspective on where the contact center industry stands today, plus our trend predictions for 2023.