We're excited to attend IQPC's fourth annual Customer Experience Summit in Biscayne Bay, Miami, on May 21-23. Building on the excitement from last year, the show will include even more innovative workshops, networking opportunities, and keynote speakers to help you deliver the ultimate customer experience.
Fonolo focuses heavily on providing the ultimate customer experience with your call center. We've been blogging a lot about best practices and will be hosting a webinar on Thursday, May 17th. Customer experience is high on the priority list when it comes to corporate strategies and with customers expecting immediate customer service whether on the web, social media, mobile, call center, or in the store – it's time to take action.
Meet Me At The Summit
If you're planning on attending the show and want to connect with me, I'd love to further discuss customer experience trends. Send me a note here shai@fonolo.com or via Twitter @shaiberger.
Hope to see you there!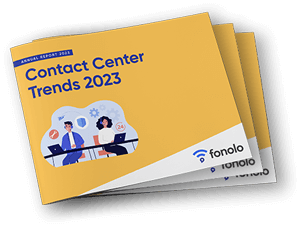 Trend Alert! Contact Center Industry Predictions for 2023
This report offers perspective on where the contact center industry stands today, plus our trend predictions for 2023.