The call center industry has been stuck in a rut for decades, making – at best – minor tweaks to an experience that is universally despised by consumers. Hope has arrived in the form of the smartphone which is finally giving us a way to radically improve the call center experience.
The smartphone's visual interface, ease-of-development and exploding popularity mean we can finally get rid of the major problems plaguing the call center experience: Phone menus, waiting on hold and repeating information to agents. (And that's just for starters!)
The race is on: Which company will figure out how to effectively connect the two separate worlds of the smartphone and call center? I think Fonolo's approach has powerful advantages with impressive awards to back that up. But, today I'd like to share 5 videos from other vendors because each one has its own distinctive qualities.
Genesys
Of the major call center vendors, I think Genesys has shown the most effort in embracing the mobile platform. One of the best examples I've seen comes from a project they did with French insurance company GroupAMA. Genesys is now building on that effort with its Mobile Engagement product.
Avaya
Since Avaya software powers more call centers than anyone else, it's worth paying close attention to what they do. Their Callback Assist product has been around for years, which could be adapted for mobile, but I haven't seen an example of that yet. (Please let me know in the comments if I've missed it.) A couple of years ago, they released "One-X Agent". The promotional video below shows it doing some impressive things on a mobile device, but their product page doesn't give any information on how that's done.
Interactive Intelligence
InIn announced their Interaction Mobilizer product last week. Dan Miller has a good analysis here.
Virtual Hold
Virtual Hold has been around for decades, selling mainly voice-based virtual queuing. They just underwent a major rebranding with a new focus on mobile. (I covered that in this post.) They don't have any videos on their site, but here is one from a year ago:
NICE
Somewhat unexpectedly, NICE threw their hat in the ring a couple of weeks ago with "Mobile Reach". I analyzed the announcement here. I have to admit they have the funniest video of the bunch. It's a bit long but there's a good pay-off at the end.
Wrap-Up
The products from Genesys, Avaya and InIn are all very impressive but suffer from one major drawback: They will only work if you already have the call center platform from that vendor installed. (Furthermore, you often need the most recent version of the platform.) That drawback is made worse by the fact that many large companies today have multiple call centers, often using multiple vendors, so they would need to first unify under one vendor before deploying the mobile offering.
Virtual Hold's offering works with a variety of platforms so it avoids this problem. But it does require on-premise equipment and an integration project. In cases where there are multiple call centers, that project can quickly get complicated and expensive.
Many companies use an outsourced call center for some or all of their calls. This presents a new problem for all the above-mentioned solutions because a 3rd party call center, servicing many clients, will be reluctant to alter their platform for one client.
Fonolo's call back solution is vendor-neutral and cloud-based, so none of the above drawbacks apply. I think it's the most advanced offering available today, but I also think there is plenty of room in the market for multiple solutions.
What other vendors would you add to this list? Share your thoughts in the comments section below.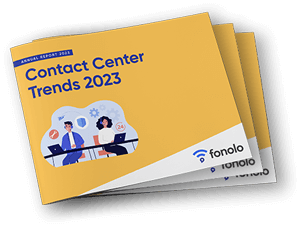 Trend Alert! Contact Center Industry Predictions for 2023
This report offers perspective on where the contact center industry stands today, plus our trend predictions for 2023.