The intersection of the call center and the smartphone has become one of the most exciting spaces to watch in enterprise IT. To understand why, look at the typical consumer-facing enterprise – a bank, airline or online retailer. They have a call center whose operational costs are substantial and rising (mainly due to rising labor costs). At the same time, that call center produces an experience despised by most consumers, due to frustrating IVRs, long hold times and the need to repeat information to agents. These are problems the industry has been struggling to fix for decades, to no avail.
(Take a look at this recent discussion on LinkedIn by industry veterans.)
The Smartphone As First Choice For Customer Service
Now along comes the smartphone, exploding in popularity faster than any consumer product in history. Today's consumers increasingly look to this device as their first choice for customer service. If the issue can't be resolved there, the next step is to try via desktop browser and, as a last resort, dial the company's phone number. (After first complaining on Twitter, of course).
Companies have to extend their customer service to the smartphone because that's where consumers are. That's simply reacting to the obvious. Now, here's where it gets exciting: By connecting the call center to the smartphone, we finally have a chance to fix those long-standing flaws I mentioned above.
Someone Needs To Connect The Two Worlds
There's an enormous opportunity for the company that can bring together the worlds of the call center and the smartphone in an effective and seamless matter. Ovum's Daniel Hong wrote a great piece on this trend in January.
At Fonolo, we've been working on this problem since 2009, having released our mobile solution in 2010.
Who's Coming To The Table?
Last week, I posted about Virtual Hold, traditionally known for their voice-based virtual queuing product, rebranding as "Conversation Bridge" with a significant focus on mobile. The week before, Genesys, one of the largest vendors of call center systems, announced Genesys Mobile Engagement. (Genesys might still have some kinks to work out according to this review from InsideCTI.)
And today, NICE is joining the fray with their NICE Mobile Reach product. According to the release, the product will "help mobile customers choose the best channel for completing their transaction, enable a seamless and effective transition with context to other channels when necessary, and facilitate multimedia communication between customers and agents." It also promises that "multimedia collaboration tools such as text chat, image exchange, and document transfer will be available for both parties".
This sounds great but there are no details of how this will integrate with existing call centers. One way to make that happen is for NICE to also power the agent desktop, as their demo video implies. The downside of that approach is the unavoidable integration work and agent retraining. For many companies, those are big hills to get over – for companies using outsourced call centers, it's even more problematic.
We Can Finally Fix Everything That's Wrong With The Call Center
We finally have a chance to fix what's wrong with the call center because the smartphone offers a rich and flexible interactive interface the traditional phone sorely lacks. (The dial pad was never meant to be a navigation system!)
With a proper connection between these two worlds, callers can:
1) Navigate a modern, visual menu system on their device rather than "pressing 1 for this or 2 for that".
2) Hold their place in queue for an agent without having to stay on the line ("Virtual Queuing").
3) Answer pre-call questions and have the context of their transaction transferred to the agent.
What's missing is how to make that connection happen. You see, there are no open standards for communicating with a call center. Every vendor has their own protocols. (That was a big mistake by the industry, but there's nothing we can do about it now.)
From what I've seen over the past few years, solutions requiring major changes in the call center have a hard time getting off the ground. That's why our basic philosophy at Fonolo is to require little or no integration at the call center side.
The TLDNR version
To conclude, let me restate my thesis in tweet-form: Call center + smartphone = major disruptive force for customer service.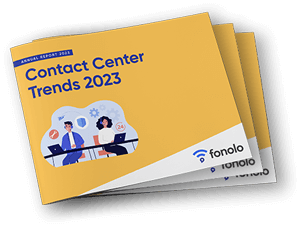 Trend Alert! Contact Center Industry Predictions for 2023
This report offers perspective on where the contact center industry stands today, plus our trend predictions for 2023.