This post has been updated for the new decade!
Read it here now: Top 20 Customer Service Blogs You Have to Read in 2020
In my six years with the customer service industry, the adoption of social media as a mainstream support channel has been the most exciting trend I've come across. However, I've always been frustrated with the difficulty in finding quality customer service blogs, especially those that deal with social customer support.
The space is lacking high quality content and in an effort to highlight companies who are providing information worth mentioning, I'd like to profile the best blogs on my personal list. I've ranked them in order based on overall appearance, frequency, uniqueness, and value of information presented.
Please let me know what you think of this list, and feel free to share your favorite customer service blogs in the comments section.
Zendesk presents their brand as the leading provider of cloud-based customer service software. Serving over 65 million end-users with their helpdesk product, their blog is simple, elegant, frequently updated, and provides innovative discussions on customer satisfaction, service and experience, and product updates. Highly recommended for those in the social customer support space.
What Do Customers Hate Most About Bad Customer Service

Fresh from its recent acquisition by Salesforce, Desk.com has been making waves in the social customer service industry. With a focus on the social aspects of customer service, their blog provides inspiring strategies on driving satisfaction in the age of social media. I'm a big fan of @alexhisaka and @jaimelapena, who lead the marketing team and grow the brand.
The Future of Social Media and Customer Service
I've always been a big fan of Parature. Founded in 2001, they pioneered social CRM and were the first company to launch a customer service product for Facebook. Duke Chung is a young and experienced CEO with an innovative approach. Serving over 40 million end-users, their blog is managed by one person – Tricia Morris, who infuses an abundance of personality. Parature covers topics your typical social CRM, customer service experience and company news but what sets them apart is their use of interesting infographics.
Gartner Lists "Hot" CRM Applications for Customer Service
Forrester's Kate Leggett is a leading customer service analyst, and a fellow University of Toronto alum with over 10 years of industry experience. Her featured Forrester blog shows businesses how to deliver cutting edge customer service strategies. A veteran like Kate keeps her posts short and to the point but packed with useful information.
Customer Service: Out With The Old . . . And In With The New
I have been following Michael Maoz's discussions on customer relationship management and customer-centric digital strategies for years. Michael is a respected Gartner analyst who publishes clean and clutter-free articles on social CRM, customer service and cloud computing. What differentiates his blogs from the others is his coverage on technical components, which attracts IT professionals and CIO's.
Social embraces Customer Service. IT not invited to the dance. Sparks fly.

Somewhat of a newcomer to the cloud-based helpdesk industry, Freshdesk is making a splash with its social customer service solution that spans across the social media spectrum. With the CEO of Zendesk calling them a ripoff, it's safe to say they ruffled some feathers. A little competition is great for the space and their response to this accusation was professional and classy. Their blog covers customer support, startups, social media, product updates, and will continue to get better as they mature and grow.
Jive's social business and collaboration software help enterprises leverage social media for better customer engagement and productivity. Considered to be a leader in the enterprise social platform, their depth of knowledge in the space is showcased in their blog, Jive Talks.
I really like Sysomos, a social media-monitoring tool for businesses with an emphasis on strategic guidance and decision-making. Focusing on social media channels, their blog is easy to read and attractive. If you're interested in how to properly monitor and measure customer sentiment and then use that info to drive better customer service – definitely check them out.
Social Media and the Age of Instant Customer Service Gratification
They have one of the more fun and lively blogs on the list that really brings out their corporate culture. Check them out to learn some valuable information about the role of customer feedback in the support process. Curious to know the value customer feedback is in the support process? Sink your teeth into their blog!
Infographic: What Makes People Want to Follow a Brand?
Also in the customer feedback solution space is Kampyle. Not as popular as Get Satisfaction, Kampyle strives to drive better customer engagement, lead generation, and customer service. While not as visually appealing as the other blogs I've mentioned, Kampyle provides unique insight on customer feedback and support.
Google +1: The Brave New Social World?
Who else would you add to the list? Add your favorite service blogs in the comments section below.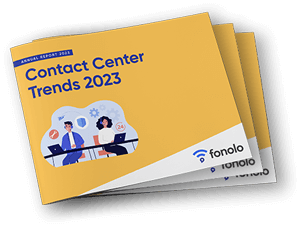 Trend Alert! Contact Center Industry Predictions for 2023
This report offers perspective on where the contact center industry stands today, plus our trend predictions for 2023.