Fonolo is all about fixing the call center experience, yet we spend a lot of time talking about social media through whitepapers, webinars and our blog (see 6 Steps to The Ultimate Social Contact Center).
The connection between call centers and social media might not seem obvious, so let me explain.
Shifting Balance
For decades, companies have imposed an infuriating call center experience on their customers. Although well aware of the problem, companies haven't done anything to improve this experience, because the cost was too high, relative to the negative impact.
Two forces are changing the balance of that equation. Firstly, solutions like Fonolo are lowering the cost of fixing these problems. Secondly, a very vocal generation of consumers, empowered by social media, is raising the cost of not fixing them (through publicly shaming companies who give bad customer service).
Platforms like Twitter offer a quick and easy way to broadcast negative experiences to the world – messages that are permanently attached to a company's reputation. Albeit reactive, this has created a new urgency for companies to fix the call center experience.
OnHoldWith
Over the years there have been a number of attempts to leverage the "shame factor" to motivate companies to improve their phone-based customer service. Most commonly known is the venerable "GetHuman" project, which gathered an impressive notoriety.
Fonolo has also implemented something to help nudge companies into 2012. Earlier this year we launched OnHoldWith.com, a Twitter-based service to amplify and track the endless "on hold with" complaints broadcasted on Twitter. OnHoldWith cleverly filters tweets related to a particular industry or company.
OnHoldWith is not only a way for the public to collectively vent its frustration. It's a mecca of data and stats – available to anyone who visits the site and digs into the charts. We recently shared some startling results related to
United Airlines
and the
IRS
.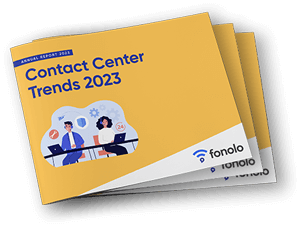 Trend Alert! Contact Center Industry Predictions for 2023
This report offers perspective on where the contact center industry stands today, plus our trend predictions for 2023.