It's been an exciting time for me as Fonolo's marketing manager. Blogging about the customer service and call center space is something I love to do, and there certainly has been a lot to talk about. Our blog has become popular in the industry, and our topics have started to receive extensive circulation in social media.
Enjoy reading our 10 most popular customer service and call center post of the year, and let us know what you think in the comments section!
20 Important Customer Experience Statistics for 2012
Organizations that deliver an enhanced customer experience are thriving. It is no surprise that industry leaders such as Zappos, Apple, and Amazon are also leaders in customer service.
The World's 5 Most Innovative Contact Center Providers
The most innovative providers are growing revenue streams by targeting emerging markets, niche applications and/or specific verticals (ie: service providers). They are also competing on technology, especially when it comes to cloud-based offerings.
Call Center Technologies Heating Up Customer Service
The North American call center industry is going through an unprecedented transformation that is driven by the influential power the customer has on major business decisions.
At the forefront of this transformation are 5 innovative technologies that are changing the call center experience and inspiring businesses to think differently.
6 Steps to the Ultimate Social Contact Center
Social customer service is a great new opportunity to drive satisfaction, loyalty, and differentiation. Most organizations strive to adopt social media into their contact center, but few get it right.
The 10 Best Customer Service Infographics for 2012
Want some compelling reasons to invest more in your customer service efforts? How about some great facts to help you map out your customer experience strategy?
Top 3 Reasons Customers Hate Your Contact Center
Calling any contact center is a customer nightmare, so let's examine three of the biggest culprits and what you can do about them.
Customer Service Trends for 2012
The evolution of customer service is being shaped by changing trends in business, consumers, and the evolution of technology. Its influence as a strategic differentiator continues to grow. In fact, 86% of companies say customer experience is a top strategic priority.
Valuable Lessons from United Airlines' Customer Service Fail
On March 3rd, United Airlines attempted to merge their reservation system with Continental. It did not go as planned, creating customer mayhem because of ensuing technical glitches on the website and ticketing functionality.
Call Center Trends for 2012
The call center industry continues to evolve as it responds to changes in the global business environment. Economic pressures, new technologies, increased competition, and customer behaviour are all affecting the landscape.
Top Social Customer Service Blogs
In my six years with the customer service industry, the adoption of social media as a mainstream support channel has been the most exciting trend I've come across. However, I've always been frustrated with the difficulty in finding quality customer service blogs, especially those that deal with social customer support.
What other customer service articles would you recommend? Please share your thoughts in the comments below.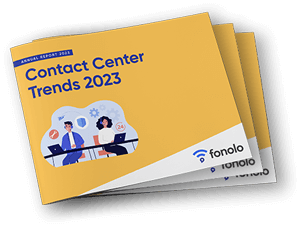 Trend Alert! Contact Center Industry Predictions for 2023
This report offers perspective on where the contact center industry stands today, plus our trend predictions for 2023.