The call center interaction remains at the heart of the customer service experience for most consumer-facing companies.
For decades, this experience has been dragged down by 3 major complaints: phone menus, hold times, and repeating information. Yet, they've been stubbornly difficult to solve.
No, you can't sidestep the problem with better self-serve options
In recent years, some companies assumed that the growing sophistication of online self-serve options would make these problems irrelevant. This has not turned out to be the case. While self-serve continues to improve and gain popularity, the voice conversation remain a critical channel.
In my post Why Focusing on Voice is the Key to First Call Resolution, I cited recent research, which showed voice conversations are still perceived to have the best chance at getting an issue resolved. What was striking is that this result holds across all age groups. It was shocking to see the technology driven, under-30 demographic gravitate towards a phone call to handle complicated issues.
A tour of the complaints
Let's walk through a typical call center interaction, starting with the phone menu (IVR), which is supposed to connect callers with the right agent. Instead, it frequently drives callers to "zero out", which is a lose-lose outcome: frustration for the caller and wasted time for the agent.
Next, the caller is asked to wait for an agent. Another lose-lose outcome: Annoyance for the caller and wasted money (from open phone lines) for the company.
Then, factor in another inefficiency: The caller is prompted by the IVR to provide information. But when connected to the agent, he has to repeat the same information. This leads to more caller frustration and more wasted agent time.
Why are these problems so tough to fix?
Despite the damaging effects to the caller experience and the added cost to the company, these problems still exist. Here are a few reasons why:
Call centers are built on proprietary systems which makes innovation difficult
The call center function is often outsourced to a 3rd party
There are no interoperability standards between call centers
These are all deeply ingrained problems that are not going to be solved in the near future.
Light at the end of the tunnel
There is reason to believe the industry is reaching a turning point. Here's why:
More consumers are using smartphones, which means, there's an opportunity to fix these 3 complaints – without major changes to the call center. The key is to use the smartphone's powerful input and display functionality to establish an intelligent channel between the caller and the company.
Social media has changed the balance of power. Complaints about customer service are easily broadcasted to the world and permanently attached to a company's reputation. This has created a new urgency for companies to fix the call center experience. A good way to get a sense of this urgency is to visit onholdwith.com (a Fonolo side project), which automatically compiles waiting-on-hold tweet complaints.
The SIP communication protocol has become more popular in call centers. One reason that features like virtual queuing (where hold-time is replaced with a call-back) have remained rare is the daunting task of integrating with proprietary call center infrastructure. A SIP-enabled call center allows such functionality to be added with much less integration effort.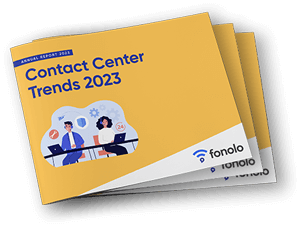 Trend Alert! Contact Center Industry Predictions for 2023
This report offers perspective on where the contact center industry stands today, plus our trend predictions for 2023.