As a marketing manager in the customer service and call center industry, I spend a lot of time researching and reading articles. Finding quality content in the space can be challenging, because there just isn't that much volume being pushed out in the first place, and much of it is focused on selling, not education.
In any given week, I read approximately fifty articles and come across a few diamonds in the rough that are well written and teach me something new. Here are my 6 favorite customer service blog posts so far this year.
What Do Customers Hate Most About Bad Customer Service
This probably won't surprise you, but according to a recent Forrester survey only 2% of consumers strongly agree that they always receive excellent customer service. Zendesk outlines what customers hate the most. Don't just read and move on – make sure you fix these problems if they apply to your company.
Favorite quote: "22% of customers tell their family / friends / peers about bad customer service."
First Contact Resolution: 6 Tips for Getting Customer Service Right the First Time
Ask any call center manager how they measure customer service, and chances are, first-call resolution will be at the top of the list. Parature provides some valuable information on improving FCR for a better service experience.
Favorite quote: "Don't penalize CSRs for longer support times if they are achieving first contact resolution. Sometimes slow and steady will win the race, or at least greater customer loyalty."
Changing the Culture of Customer Service
Culture is difficult to change in a business, especially larger and more established companies. But in this era of social media, becoming a customer-centric organization is vital. Rawn Shah recently interviewed Frank Eliason, Senior VP Social Media for CitiGroup. It was a great discussion on their biggest challenges and how they've been dealing with them.
Favorite Quote: "It has to be at top, the CEO dictating here's what we are going to be. But you also need that bottom layer to truly buy into it, and the two have to marry."
12 Take-Note Online Customer Service Statistics for 2012
Online customer service has come a long way in the last ten years, with social media becoming the next major support channel. These relevant statistics by Tricia Morris make a strong case for updating your digital service strategy.
Favorite Quote: "More than 50% of Facebook users, and 80% of Twitter users, expect a response to a customer service inquiry in a day or less."
Transform the Contact Center: Forrester's Playbook for Customer Service Excellence
The case for investing in customer service is clear: higher customer loyalty and revenue, with lower support costs. Getting it right is the real challenge. Kate Leggett, Senior Analyst at Forrester, outlines four important pillars to make it happen.
Favorite quote: "Provide cross-channel customer service in the way that customers want to receive it. In the past 12 months, 68% of customers used the phone, 60% used help or frequently asked questions (FAQs), 54% used email, 37% used chat, 20% used SMS, and 19% used Twitter."
6 Keys to Building a Service Culture
So you want to build a customer service culture, but don't know how? John Tschohl, President of Service Quality Institute helps you get started with 6 important steps.
Favorite quote: "The service leaders hire one out of 50 applicants, sometimes one out of 100, but they're very, very careful. You can't afford not to be extremely choosy when you hire."
What are the best customer service posts you've read this year? Share in the comments section below.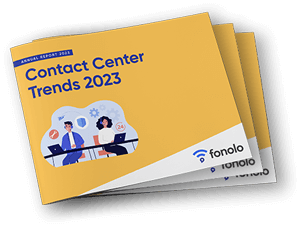 Trend Alert! Contact Center Industry Predictions for 2023
This report offers perspective on where the contact center industry stands today, plus our trend predictions for 2023.