The tides have changed in the call center world, due to the enormous power customers now wield to drive change in businesses. One need only look at the profits of Apple, Amazon, and Zappos to see the advantages of delivering an incredible customer experience.
Unfortunately, very few companies are able to satisfy, let alone impress, their customers. In fact, only 2% of companies meet the high expectations consumers have for their call center.
Read on to learn what it takes to get an 'excellent' rating in the call center, extracted from Avaya's 2011 consumer preference report.
The report asked consumers, "Ideally, what should a company's customer service center offer you in order to rate your experience as truly excellent?"
Here is a summary of the results:
Fast Speed of Resolution
With social media literally at their fingertips, customers have become more demanding, especially when discussing the call center experience. They expect to quickly reach a customer service agent and have their problem solved.
Still in doubt? Do your research. Check out OnHoldWith.com and see what happens when you mix long hold times and disgruntled customers.
You'll find that:
Consumers expect to reach a customer service agent quickly
Consumers expect to have their query resolved quickly
Hire the Right Agents
Your call center agents are front line super stars for your organization. Communication and personality will have a major impact on the caller experience. So if you're looking for ways to improve your call center, hire the best.
Your consumers want agents who:
Are based in the same country
Have good communication skills
Are friendly, polite, and easy to understand
Exercise empathy
Customer Information is Available and Accurate
Nothing kills the caller experience faster than having to repeat information. Repeating information can quickly kill the caller experience. When customers are forced to repeat information, it kills the caller experience. That was as much fun to read as it was to type. Forcing customers to repeat information is one of the biggest turn offs. Don't do it.
Make sure that:
Service reps have access to all of a customer's account information
Customer profiles are up to date and accurate
All customer details are recognized
Source: Avaya Consumer Preference Report.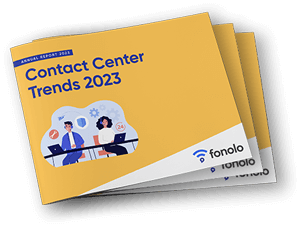 Trend Alert! Contact Center Industry Predictions for 2023
This report offers perspective on where the contact center industry stands today, plus our trend predictions for 2023.