I think I'm experienced enough to post a blog about customer service. I've been a consumer from the time Smurfs were around.  I've graduated from collecting blue creatures to fine art, appliances and everything one would need to outfit a home – and I do most of my shopping and browsing from my iPad, curled up on my couch or on my iPhone during my daily commute.
Loyal to the retailers I shop with; I've faithfully downloaded their apps to further enjoy my 'shopping experience'. Actually, most of my life is orchestrated from the palm of my hand, the hub of my existence – my iPhone. I bank, text, chat, surf, share notes, build/share home décor inspiration ideas, play games, email, schedule appointments, control my TV, plan my commute with transit schedules – you get the gist.
With millions of people downloading apps, retailers/brands have direct access to their consumers, so, why can't consumers purchase directly from the actual apps or access support? In addition to a cultivating a frustrated consumer, retailers aren't tapping into the power of their apps, creating a huge disconnect in technology and loss of revenue.
I draw on my personal experiences to build my case.
Home Depot App
I'm a new homeowner, constantly searching for products to help renovate and outfit my house.  I downloaded the Home Depot app, was able to browse and add items to my list. With a list created of 'must haves', you would think a 'buy now' button would be available. Negative. 
I attempted to contact customer service to further explore the technical discrepancy. Not wanting to waste airtime minutes, I opted to Tweet them a question. An hour went before someone responded – with no answer to my question.
During my two-hour wait, I clicked on 'contact us' but when faced with having to call their 1-800 number (I prefer a click to call option), I gave up and downloaded the Canadian Tire app.
Sadly, their 'shopping' experience wasn't any better.
Canadian Tire did allude to the ability to 'answer a call or respond to a text and maintain your place within the app with the new multi-tasking functionality. However, I couldn't find it.
          If I can pay my bills, transfer money, open an account, etc., why can't I create an account, shop from an app and start a conversation with customer support? For the companies that are half way there, if only they would take the 'click to call' plunge.
Consumers want quick, easy and convenient services with their mobile shopping experience – retailers haven't mastered that. It's a simple solution. Allow your 'shoppers' to create an account (like the bank apps) and add a click to call feature in your contact us section. Voila – the ultimate shopping experience. Is that too much to ask for?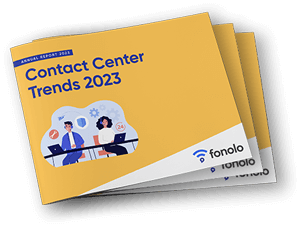 Trend Alert! Contact Center Industry Predictions for 2023
This report offers perspective on where the contact center industry stands today, plus our trend predictions for 2023.