Despite the telephone being the most popular channel for support, it also has the reputation for being the most frustrating method.
Repeating information to agents, waiting on hold, and navigating phone menus are the main reasons customers dread the call center. Negative caller experiences drive customers to the competition, and to share these experiences with the world through social media, eroding the reputations of countless companies.
Customers Prefer Phone Conversations
A recent Forrester Consulting titled "North America 2011 Consumer Preference Report – Contact Centers" finds that the overwhelming majority of consumers (81%) prefer phone support, far ahead of email (33%), the next most popular channel.
The study also found that a "phone conversation" was the most often used method in the prior 3 months, with 44% of those surveyed, compared to just 15% for email.
Why is the phone so popular? Customers want to "interact with a real person," and view human interaction as a critical part of excellent customer service. They want to quickly reach someone who can resolve their issue as fast as possible, two key strengths the phone has over other channels.
'Excellent' Customer Service is Hard to Find
Unfortunately, most customer service departments are focused on minimizing support costs, rather than delivering a call center experience that doesn't frustrate their customers. In fact, the same Forrester report found that only 8% of consumers are provided with 'excellent' customer service.
Higher customer expectations, reshaped by social media channels such as Twitter and increased business competition, makes it even harder to satisfy callers.
When the Forrester study asked respondents what makes a customer service interaction excellent, quick issue resolution and human interaction topped the list.
Here's what they wanted:
1. "I am able to interact with a customer service representative quickly."
2. "My query is resolved quickly."
3. "I am able to interact with a person."
Fast support remains a challenge for most organizations, and is a major reason why people are so disappointed with customer service centers today.
What Frustrates Callers the Most?
Most call centers are an absolute nightmare for callers. The three most common complaints increase the time it takes to reach an agent and have an issue resolved in a timely manner.
1. Phone Menus
People hate navigating phone menus, also known interactive voice response (IVR) menus. They are supposed to help callers, but have countless amounts of grief over the years. Customers are infuriated with valuable time wasted trying to reach a support representative.
2. Waiting on Hold
Waiting on hold for long periods of time to reach a support representative is not acceptable. An automated voice that regularly tells customers, 'your call is important to us, we'll be with you shortly' insults their intelligence and makes them even angrier.
3. Repeating Information
Repeating information to multiple agents not only slows down customers from getting their issue resolved, it also suggests that the offending company can't get their act together, hurting their credibility.
The Impact of Bad Customer Service
When customers are annoyed by a bad phone support experience, they react in ways that can be disastrous to the company's reputation.
ClickFox published a survey that highlights the negative impacts:
• 52% tell family/friends/peers about the experience
• 35% stop doing business with the company
• 16% post comments on social networking sites
Onholdwith.com is a Twitter-based site that tracks thousands of complaints relating to hold times, and showcases the enormous number of customers frustrated by poor caller experiences.
How to Eliminate the Most Common Call Center Complaints
Effective phone support is easy to use and resolves customer issues quickly. Implementing the right technology can remove the barriers that prevent your call center from consistently delivering positive customer service experiences.
1. Replace phone menus with a visual interface
Use a visual interface that offers your website visitors and mobile users one click access to the appropriate destination. Your customers will no longer have to listen to or navigate your phone menu, saving your call center time and money by eliminating zero-outs.
2. 'Whisper' customer information to the agent before the call
The time it takes to authenticate a customer at the start of a call frustrates customers, and slows down the process of solving the caller's problem.
Collect customer information before the call through forms on your website and mobile app and pass them onto the agent in the form of a 'whisper.' This helps your agents shine by enabling them to immediately focus on solving the customer's issue, and inevitably reduce call resolution time by up to 20%.
3. Offer a call-back to customers waiting on hold
Replacing hold time with a call-back is one of the easiest and most effective approaches to take during peak hours. The technology places callers in a virtual queue and automatically calls them back when an agent is available. The benefits are significant:
• Customers can go about their daily lives while they wait for your call
• Lowers the burden of hiring additional call center staff
• Saves you and your callers money from not keeping phone lines open
• Lower handle times from customers not complaining about waiting on hold at the start of the call
Cloud-Based vs On Premise
The majority of call centers don't have the budget required for on-premise technology solutions, which require more time, money, and technical integration than their cloud-based counterparts.
On-premise deployment models have prevented widespread adoption of call-back technologies that improve the caller experience.
With the increasing popularity of cloud-based technology, companies are finally able to integrate best of breed point technologies such as call-back in a faster and more cost-effective manner.
Conclusion
We live in a world where few call centers are able to provide the immediate response and fast issue resolution their customers demand. The availability and convenience of cloud-based technologies that enable support organizations to meet these expectations is changing the caller experience from a nightmare into a customer service dream.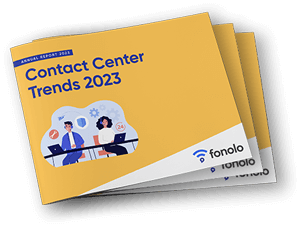 Trend Alert! Contact Center Industry Predictions for 2023
This report offers perspective on where the contact center industry stands today, plus our trend predictions for 2023.