Given the "multi-channel" future of customer service, you might think that the voice channel is losing its prominence. After all, if consumers are using email, chat, Twitter and Facebook, they must be less interested in calling, right?
Wrong.
Although the new channels have a big impact, the phone call is still the most important channel when it comes to customer satisfaction. The following 3 charts each look at this issue from a different perspective.
By Stage of Process
Opus Research and Contact Solutions showed this graph in a webinar last week. They asked consumers which channel they preferred to communicate on based on the stage of their purchasing process.
In the pre-purchase category, phone ('Toll-free number') comes in 3rd after "Browse websites" and "Search engine". But for ongoing support, the phone is basically tied with those two communication channels. In both cases, social networking and other channels are far behind.
Dan Miller, Senior Analyst at Opus summed it up, "[Customers] equate 'service quality' with quick resolution of their problems by a live agent. If they are put on hold, confronted with confusing options or delivered to an individual who is not up-to-speed with their requirements, they think less of your company and its brand."
You can watch the webinar on-demand here (registration required).
By Age Group
Ovum research looked at the same issue but by age group. I wrote about this a few months ago (Why Focusing on Voice is the Key to First Call Resolution) but it bears repeating here.
Analyst Keith Dawson asked several thousand people the question, "When reaching out to customer service, through which channels have you had the most success resolving your issue on the first attempt?" In other words, he wanted to know which channel was best at delivering first call resolution. Below are the results for folks over 50.
That towering red line is "Telephone Conversation with a CSR". Email is a distant second and everything else lags significantly behind.
My first thought when seeing this was, "I'm sure a younger demographic will skew more towards the newer channels." I was wrong. Here are all three age groups in the study:
Even for respondents under 30, the so-called "millenials", a live voice conversation is still perceived to have better odds of solving a problem than any other channel.
By Type of Inquiry
American Express released their very thorough Consumer Service Barometer this past June. The chart that caught my attention looked at channel preference based on the complexity of the inquiry.
Look at that green line jump ahead for "more complex" or "difficult" inquiries.
The bottom line: Consumers prefer speaking with a real person for anything other than the simplest inquiries.
Bonus: What do call centers have to say?
All three of those charts (and the studies they came from) were based on interviews with consumers. What if we survey the folks who run call centers instead? Last month, Nobel Systems did exactly that  and released the results here.
After talking to the managers at 556 call centers, they found that over 70% said voice service is still the main channel of communications with their customers. When asked if they expect that to remain the same in the "foreseeable future", 70% said yes.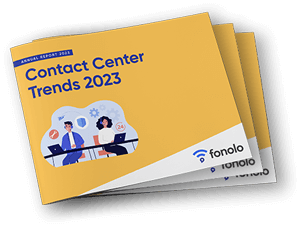 Trend Alert! Contact Center Industry Predictions for 2023
This report offers perspective on where the contact center industry stands today, plus our trend predictions for 2023.