There's no stopping the power of telephony start-ups as we continue to celebrate the successes and accolades received by innovative companies.  What's even better is when Inc. Magazine recognizes one of our clients, Phone.com, at number 262 in their 2012 top 500 list, an exclusive ranking of the fastest-growing privately-held companies in America. Past members of this list include, Intuit, Zappos, Under Armour, Jamba Juice, Timberland, Patagonia and Zipcar. We'd like to publicly congratulate Phone.com! You can read the press release here: With Three-Year Sales Growth of 1,373 Percent, Phone.com Ranks No. 262 on the 2012 Inc. 500 List.
Andy Abramson, co-host of "World Technology RoundUp" and the weekly audio magazine, "Speculations", recently published a short list of six 'new' telco companies who cater to single-family home services and small to medium-sized businesses. It's no surprise that Phone.com made his esteemed list. [blog: Why Stay with Old Telco When New Telcos Offer More?
Highly respected VoIP blogger, Abramson believes, "These next-gen providers bring a wider range of services, offer better support and deliver telco-grade or better voice services. Many of the upstarts also have a dedicated focus on the customer as a person, not simply as a number and usually offer better pricing overall."
Ari Rabban, CEO & CO-founder of Phone.com, knows the pain points related to larger telco companies so by offering a wider range of services, better support and a focus on the customer – he's managed to keep his customers happy while seeing a three-year sales growth of 1373% (I'm sure he's happy about that too).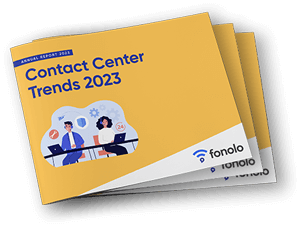 Trend Alert! Contact Center Industry Predictions for 2023
This report offers perspective on where the contact center industry stands today, plus our trend predictions for 2023.