It doesn't take a rocket scientist to realize how fast things are moving in technology. Consumers have completely changed how they listen to music, run errands and conduct business. Most areas of business have stayed on top of the trends but there's one lonely industry who lags behind. Classic case of rabbit and the tortoise? I don't think so. It's more like Lady GaGa vs Darrin Stephens (Bewitched, remember??).
 Musical evolution.
There was a time when the world refused to believe that vinyl would be a thing of the past. Personally, I continue to enjoy the full body sound of an actual record (round vinyl thing with a hole). The music world evolved from vinyl, 8 track, cassettes, cds to mp3s – easily downloaded to our mobile. The world not only adapted, it thrived with the technology as we found added value and conveniences in other aspects of our lives.
Banking used to be a face-to-face occurrence.
We got paid by a cheque, went to the bank, filled out a paper transaction form, stood in line, endorsed it in front of the teller, updated your bank book and you had money in your account (we hope). Introduce ATM, telephone banking, Internet banking and mobile banking. I quite often shuffle funds around on my smart phone while commuting to the office.
The neglected call center.
Still stuck with minimal evolution – if at all. Well, at least we don't have to call the operator to put us through (do operators even exist anymore??) However, we are still forced to communicate by picking up a phone, dialing a phone number and having to waste precious time (and airtime minutes) listening to horrible music.
Someone needs to stop the madness.
Consumers are perplexed at the stunted growth of contact centers and continue to wonder why they haven't changed with the times – and consumer behaviour — in an effort to a) stay on top of technology, b) retain customer loyalty and c) simply be efficient.
If you're ready to change how your call center does business, you won't want to miss our upcoming webinar: 3 Ways Smartphones Will Change Call Centers Forever.
Help save a call center today. Attend the webinar. Share this post.
If only we were Sam Stephens, a simple twitch of nose, flick of the wrist or wink of the eye – everyone would be up to speed.
Maintaining a 'smart' call center with Smartphones.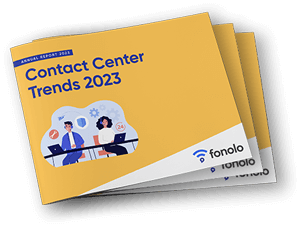 Trend Alert! Contact Center Industry Predictions for 2023
This report offers perspective on where the contact center industry stands today, plus our trend predictions for 2023.