The inevitable rise of the smartphone represents a tremendous opportunity for companies to improve the call center experience.
Based on trailing average of six months' growth, 50% penetration will be reached by end of September 2012, though the trend is for accelerated adoption. – Asymco Report, 'The US Smartphone landscape' 
Now that a majority of US consumers are carrying these powerful devices in their pockets, the call center is adapting by:
Replacing hold time with an intelligent call-back
Enhancing the IVR with a visual interface
Asking the right pre-call questions for faster call resolution
Consumers are welcoming these changes because they eliminate common frustrations with the call center experience. Companies are also welcoming these changes. (Well, at least the smart ones are.) Why? Because, in addition to improving the customer experience, companies are able to lower handle times and thus lower costs.
WE'LL TALK ABOUT HOW COMPANIES:
Adapted to their smartphone app and mobile site.
Integrated the smartphone into their call center.
Determined what kind of ROI to expect.
Don't miss out on this unique opportunity to learn how these companies took a leap of faith and launched their call center into the 21st century – via the smartphone.
3 Ways Smartphones Will Change  Call Centers Forever
Date:   Thursday, September 27th at 2:00pm ET
Speaking:  Shai Berger, CEO, Fonolo
Who Should Attend:
VP's and Directors of Customer Service
VP's and Directors of Contact Centers
VP's and Directors of Web/Social Media
Space is limited. Sign up today!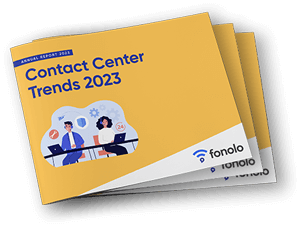 Trend Alert! Contact Center Industry Predictions for 2023
This report offers perspective on where the contact center industry stands today, plus our trend predictions for 2023.